Latest news
quietearth
[Celluloid 01.24.08]
post apocalyptic
zombies
movie
news
horror
We've been waiting on word of this film forever, and for those of you who missed it, it's sort of a dystopic/post-apocalyptic zombie arthouse horror flick and it simply looks awesome. I recently emailed them and the publicist from Lockheart films just sent me a press release stating principal photography will begin February 14th in the city of Porto Alegre! Written and directed by Davi de Oliveira Pinheiro (who's also producing with Isidoro B. Guggiana), BEYOND THE GRAVE (aka PORTO DOS MORTOS) stars Rafael Tombini as the vengeful cop Lockheart who pursues Adam, a possessed serial killer in the wastelands of a dystopic Brazil. Among the highways of a violent world populated by the living dead, the unstoppable policeman will face his demoniac nemesis. Read on for more details, the original teaser, storyboards, and a pic!
Teaser available here
From the press release:
"BEYOND THE GRAVE is very close to an art-house horror film. There is a very personal and mythological universe behind this", says director Davi de Oliveira Pinheiro. "This is not only a Brazilian take on the zombie genre, this is shaping into something really unexpected, even to us". The Brazilian filmmaker claims influence from the works of Sergio Leone, François Truffaut, William Friedkin, George A. Romero, Richard Stanley, Stephen King and H.P. Lovecraft, among others. "The script is a mix of everything I love about cinema and fantasy", explains Davi. "It's a movie made with passion, heart and, a la Alejandro Jodorowsky, balls".
The genesis of the project came from early 2005 when Davi started its development. "Since then the film has grown in scale and ambition in order to create a much more challenging experience into the horror genre", says producer Isidoro B. Guggiana. On June 2007, the first teaser trailer was released on the Internet and the crew started the pre-production. "We assembled an enthusiastic and very talented crew in a place where genre cinema almost does not exist, says Isidoro. "The best of both worlds is at hand: a strong screenplay and creative artists that can bring those sights, sounds and words to life". Among the talents behind the production is the artist/technician André Kapel ("Embodiment of Evil"), head of the makeup and FX department.
Storyboard #1: In these scenes, Adriene faces the King of Zombies and his fellow nurses in a bloody corridor. Storyboards by Gisele Oliveira.
Storyboard #2
Storyboard #3
Storyboard #4
Storyboard #5
Movie producers Davi de Oliveira Pinheiro and Isidoro B. Guggiana. Photo by Luciano Amaro Valério.
You might also like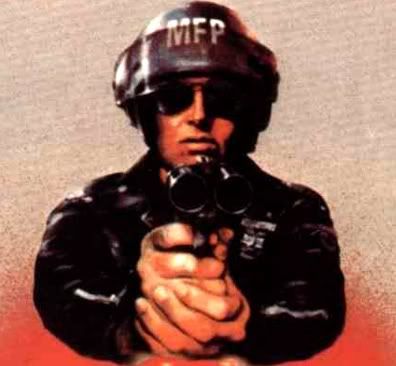 agentorange (14 years ago) Reply

This looks really cool...

Leave a comment