Latest news
Christopher Webster
[Celluloid 02.12.08]
post apocalyptic
review
book
Year: 2007
Publisher: Nightshade Books
Authors: Various
Amazon link:
link
Rating: 9 out of 10
It might be hard to believe, especially considering the genre's epic rise in popularity over the last couple of years, but a seminal literary anthology of post apocalyptic fiction hasn't really hit store shelves since Walter M. Miller and Martin H. Greenberg collaborated on Beyond Armageddon way back in 1985. And in a way I can see why. Almost every author that found space among that book's hallowed pages has become part of the literary cannon. And heavyweight's like Harlan Ellison, J.G. Ballard, Arthur C. Clarke, and Ray Bradbury, are some pretty tough acts to follow. So, instead of treading on similar territory and providing a mere regurgitation of already established greats, editor John Joseph Adams has put together, what I like to think of as, an evolutionary bookend to Beyond Armageddon.
Indeed the 22 stories that make up Wastelands: Stories of the Apocalypse, are like an exhaustive guide to what the genre has morphed into over the years; and more often than not the stories seem like some barely recognizable distant cousin that you just found out you had. Informed as much by Cyberpunk, or the extrapolative powers of science fiction's more adventurous thinkers, many of the stories go a long way to challenging our very notion of what PA fiction is. And to me this is the true nature of a great anthology.
Very much like Bruce Sterling's seminal Cyberpunk anthology, Mirrorshades, Wastelands dispenses with some of the genre's more egregious pop-culture tropes, in favor of some pretty philosophical musings. Gone are the food foraging wastelanders and chain wielding cannibalistic mutant motor bike riders; passed over to represent somewhat of a more hopeful outlook to the end of days.
In fact, according to Adams himself: "I wanted the anthology to demonstrate the range of post-apocalyptic fiction--that it's not all gloomy, that it's not only about fighting off mutants and marauders and scavenging cans of pork and beans. On one end of the spectrum, you have Nancy Kress' 'Inertia," which is about the aftermath of a disfiguring plague; on the other end, you have Neal Barrett Jr.'s 'Ginny Sweethips' Flying Circus'--a rather light and upbeat foray into the wastelands, about a traveling roadshow that makes its living by selling sex, tacos and dangerous drugs. I think there's a nice variety of styles represented as well. Most of the stories are traditional narratives, but you've also got stylistically ambitious stories John Langan's 'Episode Seven' ... and Stephen King's 'The End of the Whole Mess.' It's a nice mix."
And as a long time editor for The Magazine of Fantasy and Science Fiction, Adams certainly seems like he'd know what he was talking about.
So in closing, stacking Wastelands next to your dusty old copy of Beyond Armageddon guarantees you a pretty thorough and kick-ass collection of PA short fiction.
For a full list of the book's authors and some of their own thoughts on the post apocalyptic genre click
here.
You might also like
Jamie Thornton (15 years ago) Reply

I agree! As soon as I saw Octavia Butler (among others) was one of the contributor's this was a must buy. I'm about a third of the way through and can't wait to read the rest.

Jamie Thornton (15 years ago) Reply

I embedded my email address into my comment name now (just in case my email gets caught in your spam filter).

soma (15 years ago) Reply

wow

it's £50 sterling on amazon.co.uk...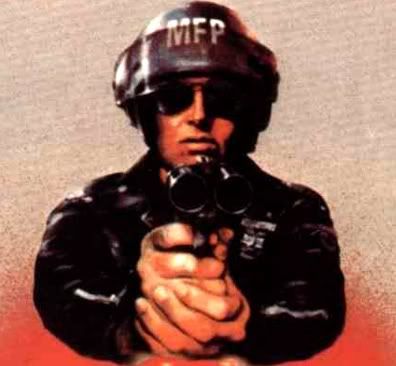 agentorange (15 years ago) Reply

That's pretty darn high... if you're in England you'd be better off buyin it for 10 American off of amazon.com and getting it shipped I'd say.

soma (15 years ago) Reply

Ordered amazon.com £9.00 sterling.

that's what I'm talking about. Now I just gotta wait for it to get here by boat :)

Ulises (15 years ago) Reply

Pretty solid review, agentorange! Makes me want to read it for sure! ^_^

Leave a comment