Latest news
Christopher Webster
[Celluloid 03.04.08]
movie
trailer
news
horror
Even though straight to DVD releases are usually something we would wait to report on as part of our weekly DVD calendar I've been so looking forward to a trailer for this that I couldn't miss an opportunity to share. Synopsis and trailer after the jump.
Starring Pullo himself and the man who would be Punisher, Ray Stevenson, Outpost is a much needed heap of Nazi Zombie exploitation that looks to pack quite a wallop.
Synopsis: "Set in war-torn Eastern Europe, a band of battle-worn mercenaries undertake a dangerous mission into a no-man's land at the behest of a mysterious businessman. When they locate and secure a disused military bunker, they also discover a terrifying secret that has laid buried for half a century–and which they'll have to fight to survive."
Preorder from Amazon
You might also like
quietearth (14 years ago) Reply

I don't know how I missed this one but the photgraphy looks great!

G.H. (14 years ago) Reply

That looks pretty damn rad. Plus it has Pullo!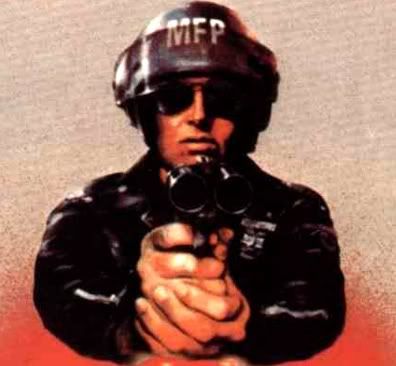 agentorange (14 years ago) Reply

I know! I can't believe people are upset that he's been cast as The Punisher in "War Zone," he's such a great actor.

The film looks well made, but there's something I don't like about the trailer. Like it's too stilted or something, but it might just be the playback. At any rate I'm still looking forward to see this when it comes out on the 11th of March.

G.H, (14 years ago) Reply

Yeah I was thinking the same thing about the trailer. The narrator seems like he's trying too hard, and stilted is the right word for its overall feel. The timing and sound don't seem right and I rarely like written words in trailers. But, maybe it bodes well that I still want to see it after watching the bad trailer...

Anonymous (14 years ago) Reply

I actually just watched a screener of this last night and it was pretty enjoyable. Maybe a little over serious in tone being that it's about spectral Nazi zombies, but still much better than I'd give a straight to DVD flick credit for.

Anonymous (13 years ago) Reply

If these are zombies, then someone should notify Romero so that Island of the Dead can be remade. These are ghosts, with physical bodies when they want them. Zombies do not phase.

A good movie for such a low budget: 6.5/10

Leave a comment