Latest news
quietearth
[Celluloid 03.13.08]
movie
news
noir
Hot diggity.. does this look awesome! In this animated feature we get the whole film noir treatment with shady dames, a private eye with amnesia, and gun toting thugs! It'll be playing at the upcoming 2008 Philadelphia Film Festival running from April 3rd through the 15th. I wish I could go.. but alas we'll just have to settle for trying to obtain a screener. The very stunning trailer is after the break as well as the full synopsis.
"Private Detective Sam Rubens clever plan falls apart with the onset of amnesia. Everyone is trying to kill him, and he doesn't know why. Ruben still speaks softly and carries a big stick, the ladies still melt at his feet, but he can get no satisfaction. Not until the mystery is solved.
Everyone talks in cliches. No one speaks truthfully. Only the pain is real. As the Hollywood Sign glistens in the background the corpses are decaying in the foreground. The good guys have their faults, the bad guys are bad to the bone, and the girls their pretty heads think treason and lust. They do what they do mostly for money -- never for love. And then there is the 'Magnum Crimen' -- the horrible, unspeakable, inconceivable crime that someone has committed."
Film Noir official site with high-res trailer
You might also like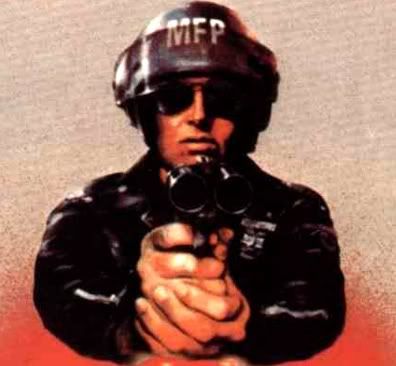 agentorange (14 years ago) Reply

Adult animation at its best. At 3 1/2 minutes it's kind of a long trailer, but I like how it really kicks in half way through. This looks pretty rad.

Cyberhal (14 years ago) Reply

Looks amazing. Here's another thing: almost everything in the last paragraph could be applied to my LA neigborhood. Damn, I'm living in a noir animation, I knew it.

Harry (13 years ago) Reply

Good God! I can't wait to see this one. Awesome!

udontknowme (13 years ago) Reply

AMAZING!!!! Simply said and now simply printed. AMAZING and a little mezmerizing!!!!!

Jamie (13 years ago) Reply

I saw this over the summer here in SF. Does anyone know where I can get this on DVD? My son is an aspiring animator and he absolutely loved this film. I did, too. It was really amazing. If I could find a copy for my son, that would be great.

NAVE HAYDER (12 years ago) Reply

ANIMATRIX gave us a taste. I'm a big fan of noir and the fact that American Animation's getting the same amount of attention as Japanese Anime (at least in terms of creative effort) is a blessing. I hope the good people at DCAU (Bruce Timm) use a similar style in their future projects.

Leave a comment