Latest news
Fergus
[Film Festival 05.02.08]
movie
review
scifi
Year: 2008
Director: Marc Caro
Writer: Marc Caro
IMDB:
link
Trailer:
link
(in videos)
Review by: Fergus
Rating: 7.5 out of 10
Dante 01 is set on a space station that is actually a scientific experiment disguised as a psychiatric ward. A new shuttle arrives bringing in mystery inhabitants giving 12 shaven headed inhabitants: 7 patients, subjects, inmates and 5 doctors, observers, guards and a few rats. The inmates have free run within a defined section while the observers watch while performing some undefined experiment, only intervening when violence erupts by means of knock out gas.
Into the apparently harmonious status quo the new arrivals introduce discord and power struggles ensue. While the resident psychiatrist, Persephone, treats the patients as humans, the new doctor, Elisa, played by the wonderful Linh Dam Pham, treats them as the lab rats they actually are - by using "new experimental protocols" aimed at promoting some dark purpose, to make the mysterious "company" more profit.
Caesar (Dominique Pinon) has control over the inmates, until the new arrival - raving and never fully conscious - shambles in. Saint George as he comes to be called, is hailed as the Messiah, and without ever knowing picks up believers causing the simmering violence to boil over among the inmates as Caesar attempts to hold his grip on power. It is this struggle for control over the Messiah and what Elisa wants to do to him that drives the action.
So enough about the story, what stands out from the trailers are the visuals and the set. Coming from Marc Caro (Delicatessen, City of Lost Children) you expect an eye for distinctive and beautiful cinematography. And you won't be disappointed. Dark blue filters dominate everything which often gives the bald headed characters the look of carved statutes, and the set a grimy warn out feel.
Following the deranged Saint George in first person through the corridors is like an amphetamine powered version of Doom - hand held camera work mixed with broken perspectives. Add to this a great sound track which encompasses choral and ultra modern electronic music and some great editing and you have a good film to watch. These 3 elements of music,action and edit work really well together to involve you in the story if you buy in to it.
On the down side, the strong religious influences that permeate the whole film: 12 characters, 3 circles, resurrections and redemptions; do come close to overwhelming the story in the end. The other disappointmentis the absence of any quirky humour which could have really helped to give the film a different type of charm. Having said that, some of the images from the film will stay with me for a long time, and that makes it worthwhile.
You might also like
Anonymous (13 years ago) Reply

Sooooo jealous you've seen this.

Cyberhal (13 years ago) Reply

sounds like a cool flick. I love the look of Caro's stuff, dark.

quietearth (13 years ago) Reply

I'm jealous too.. when is Weinstein putting this out?

Anonymous (13 years ago) Reply

I have just seen the movie. It's borig as hell. Moreover it tortures you with obvious religious symbols and gestures until even the dumbest viewer will notice it.

Anonymous (13 years ago) Reply

Its incredible that you can get 8 million dollars to make such meaningless stuff.

Anonymous (13 years ago) Reply

Oh come on, don't be so critical, it's Jesus in outer space. If you're looking for a storyline, don't watch this.

squid thrust (13 years ago) Reply

I thought this film was pretty much brilliant. Totally bleak, desolate, doomed. The set and costume design is sublime. I found myself less compelled by the plot, and more engrossed, simply, in the visuals.

Anonymous (12 years ago) Reply

This movie was crap.

entizari (12 years ago) Reply

It's always amusing to see how people who completely right off films (written about on this site and Twitch) in such simplistic ways, almost NEVER post under an actual 'name'.
it just seems very pointless.

pa2027 (12 years ago) Reply

Wow, a quote on the DVD congrat dude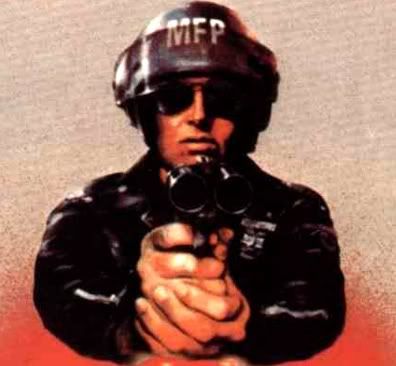 agentorange (12 years ago) Reply

Picked this up on DVD and re-watched. The film plays even better upon second viewing.

Also, in the extras it comes out that Dante 01 stems from an original story from Alejandro Jodorowsky. Very cool and not all that surprising.

boweb (12 years ago) Reply

Just saw the film today. Kind of liked it though it is missing a lot. Characters weren't well defined.
The ending was to sudden and to short. It could have used better editing too. to name a few.
All in all I still liked it and will probably see it again..someday.
It is indeed memorable :)

Leave a comment