Latest news
Hal MacDermot
[Celluloid 06.11.08]
zombies
movie
review
Year: 2008
Release date: October, 2008 (TBD)
Director: Gregg Bishop
Writer: Joe Ballarini
IMDB:
link
Trailer:
Link
Review by: cyberhal
Rating: 8.5 out of 10
Romero meets the Monster Squad and takes time for a fast vacation at Ridgemont High. Dance of the Dead is the movie where the sci-fi club geeks are the only ones in school who can save the hot cheerleaders from the zombie bloodfest apocalypse. Isn't it about time they made that movie? Finally a film where the zombies literally explode out of the graves, finally a movie where teachers get what they deserve, finally a zombie flick that cracks me up. Well, Shaun of the Dead did too, but let's not get technical. Dance of the Dead is Gregg Bishop's first feature length on a decent budget and in my opinion he's made a cult classic. I take my hat off to the writer too, big up yerself Joe. The film premiered at SXSW, and Ghost House Underground will release it on DVD in October.
More movies should start in graveyards. This one kicks off in one where a tobacco chewing gravedigger (James Jarrett) notices a gravestone, where a pot of flowers keeps falling over. He investigates, only to have a hand burst out of the ground and throttle him. He fights back with garden shears, chops off the hand, and chucks it into his wheelbarrow with a bunch of other still twitching body parts. It's my favorite chopped off hand scene since Doomsday.
Now we're in Cosa High School, and everyone's gearing up for the Hawaiian themed prom night. The jocks act like asses, the Sci-Fi club geeks get ignored, and the cheerleaders throw incredible moves. Jimmy (Jared Kusnitz) loves lovely Lindsey (Greyson Chadwick), but he jokes around so much she ditches him for golden boy Mitch. Video camera obsessed Steve (Chandler Darby) loves Gwen (Carissa Capobianco), but Gwen loves Nash (Blair Redford), the rebel rock musician. Yes, we are deep in 80s high school prom land. The wonderful world where for a guy to be a threat to society (and have all the girls love you) all you need is shoulder length hair and a leather jacket. I thought the performances of Jared (reluctant hero) and Greyson (cute chick with balls of steel) were particularly strong.
Anyway, back to the zombies, who very soon are flooding this small and once peaceful town. It seems like the local power plant's toxic waste is to blame. If this happens where you live, my advice is to be very careful about to whom you deliver pizza. As the zombies attack, the kids join forces with their psychotic coach and it's cue the power-rock soundtrack, garage full of weapons and cool hummer. Time for the geeks and freaks to save the high school dance from the zombies, oh yeah.
This is not a big budget movie, but the production values are high enough to make the FX credible. The zombie action is great, and there's just a ton of them. It's more about make-up than digital, which might be a function of budget, but I often think makes filmmakers more inventive. Like the moment when a bullying teacher finally gets his comeuppance at the hands (?) of a zombie frog. I was also impressed by the zombie sex scene, although I may not be so hasty about tonguing my next date.
In terms of the cinematography, my favorite scenes were in the high school gym, where zombies feast in a surreal disco ball world, and our heroes crawl through shadows to survive. Music-wise, check out Nash's band and their awesome punk rendition of "Someone's Gonna Get Their Head Kicked in Tonight."
A final thought to leave you with, delivered as the blood splattered Lindsey gathers the kids together in prayer circle:
"Dear God, we don't know why you've brought the dead back to life, but you have, so we pray that you can help us tonight."
Haha.
You might also like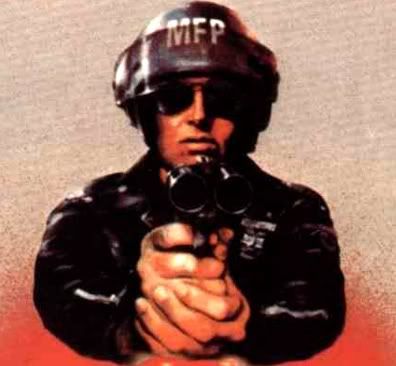 Agentorange (14 years ago) Reply

Haha sweet review man, this movie looks rad. Sounds a lot like it's in the spirit of Braindead what with all the zombie sex. If there's anything as classic as the zombie baby from Jackson's film than I'm in.

SOULCLAY (14 years ago) Reply

sounds like a cool flick hope it shows up here soon!!

Ryan B (14 years ago) Reply

Kick ass review Cyberhal, can't wait to see this one!

Anonymous (13 years ago) Reply

What is nash's band called
or any of the songs they sing?
or are they not a real band?
in the film there songs are really good
i want there C.D. or MP3?

today.i.was.born@live.com

Leave a comment