Latest news
Hal MacDermot
[Celluloid 06.16.08]
review
short
noir
Film Noir (2005, 3 minutes,
clip
)
Your Truly (2006, 8 minutes,
clip
)
Director: Osbert Parker
Writer: Osbert Parker (& Ian Gouldstone on Yours Truly)
Review by: cyberhal
It is a total joy to discover the work of Brit animation genius Osbert Parker. This bloke is the bees-knees in animation and he rocks. His work is a crazy combination of stop-motion, cut-out animation and live action that creates a new and strange real-imagined world, where animated photos of people get out of model cars then turn into real life actors. The effect is so powerful that I couldn't pull my eyes away from this wonderful world of shadows and guns and femmes-fatales. Love mixed with betrayal and murder are the mean streets of downtown Osbert's brain. Actually, I watched both of them three times in a row. Think Double Indemnity meets Casablanca on peyote cactus, then close your eyes and you might get the idea.
Both films evoke the noir genre and in that spirit seem to be set in re-imagined 1940s Los Angeles. One of the fun parts of watching these shorts is trying to pick out the faces of classic film stars that his collaged in there. He even samples those great dramatic soundtracks from back in the day. Parker's films have been nominated for several British Academy Awards, and Yours Truly actually won the award for "best short animated film" in the 2008 British Animation Awards.
From what I can work out, Osbert now works on his own films, but also with a New York based company, Curious Picture, who make pretty cool animated commercials and graphics. You can check more of his most excellent and surprising work out here.
Osbert Parker's work
Film Noir
This is not a linear story. It's more like just taking a dive into the filmmaker's dream. Film Noir kicks-off with a fist smashing through a door window, and a hand reaching in to grab the doorknob, and then the shooting starts! Close-ups of revolvers blazing and a body crammed into a suitcase. After that, it's really all about the dark images of noir. Animated photos of cops and dames fight their way through a treacherous world of curtains, shadows and murder. Wonderful. All of this to sound of period film soundtrack, with dramatic piano chords and horns.
Osbert takes classic noir iconography and remakes it his own. A cut-out beautiful dame turns with a look of fear and shock into the camera, a living/cut out man in a smoking jacket gets shot and falls to the ground and becomes paper again. We jump into color and we're on the streets of maybe-1940s Los Angeles, a stop-motion world of yellow cabs and what may well be a cut-out Cary Grant walking down the street. A detective consults a huge-eyeball at the scene of a murder. One of the spookiest bits is when Osbert cuts in real life moving slugs that slime their way over a dead but beautiful woman in a body bag. Okay, enough with telling you the images. All I can really say is try to see this.
Your Truly
I reckon Yours Truly is even stronger. I think because it had more of a linear story, so it works on more parts of my brain. There's also more color cut in with the b & w. Frank's committed a crime to get money for his girlfriend Charlie. Now the cops are hot in pursuit, and he has to cross a rainy Los Angeles at night. Classic noir chase scene, a model squad car with a live action man stepping out, blinding headlights through the rain, shadows, police sirens, more rain on the dashboard, close ups on the eyes of his dame as Ms Fatale types out a goodbye letter to the poor schmuck boyfriend (who occasionally looks a lot like Humphrey Bogart). As the heat closes in, Frank turns to the only place he (thinks) he can hide, with his woman. Except that this being film noir that may not be such a bright idea.
This film has one of the best animation sequences I've ever seen. Frank goes to hide at his woman's house, she kisses him and in true noir style, she then shoots him dead, to the sound of dramatic strings, and then…the whole sequence dissolves into this crazy domestic housewife riff: the music changes to mellow big band, like on a 30s/40s cruise-liner where people say things like "oh Jeffrey" "oh Dorothy," but all the time she's vacuuming-up blood from the carpet, chopping-up Boyfriend with a knife and COOKING HIM. His eyes make fried eggs, his body in minced for hamburgers, his foot gets steam boiled. Yum, yum. When the cops show up, the dramatic orchestral music kicks back in, but the cops find nothing. Nice housekeeping, baby.
The camera work is mostly dramatic close ups, with the occasional pull-out reveal for the big action scenes, like the car chase. The soundtrack is big on rain and typewriters. The music is classic! I think it must be lifted from various 1940s movies as the credits included Max Sterner (Composer, Casablanca) and Bernhard Herrmann (composer, Citizen Kane).
Here are a couple of moments I will remember. When a b&w police telephone rings it morphs uncontrollably and a dozen times into differently colored telephones. My favorite: when a cop drives away from Ms. Fatale's apartment, he chews unsuspectingly on a Boyfriend Burger that he helped himself too. Then something gets stuck between his teeth. He pulls out gristle and a fragment of the stolen $100 bills that Ms. Fatale's been hiding. Cue the sirens! I dare you to watch this movie while eating a double bacon cheeseburger.
You might also like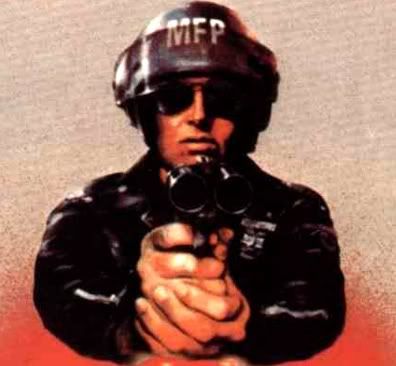 agentorange (13 years ago) Reply

Awesome review. This looks completely insane and surreal and I love it. Lots of eyeballs.

Johnette (4 years ago) Reply

cheap xavi jerse sorts jerssys online

Leave a comment