Latest news
Christopher Webster
[Celluloid 06.20.08]
movie
trailer
news
comedy
thriller
drama
Your Name Here is an unofficial biopic of my favorite author Philip K. Dick which takes aim at the later part of the popular scifi writer's career - a time when his delusions and social neuroses were contributing to some of his most adventurous and creative work (i.e Valis). Starring Bill Pullman,
Your Name Here tells the tale of the Sci-fi author William J. Frick during the last few days of his life. Penniless and living in squalor, Bill Frick is on a mission to finish his latest literary masterpiece. His inspiration is the actress Nikki Principal: the object of his obsession. After evading a lengthy visit from an IRS agent, Bill has a sudden stroke and wakes up in a limo with none other than Nikki Principal herself, who informs him that his current literary endeavor is going to change the world. He looks out his window and soon realizes that he has become a God amongst mortals, as murals and statues of him permeate the entire city. The vast majority of people worship him, but some like the nefarious Maurice Kroger want Bill's knowledge and power for their own malicious agenda. Over time Bill realizes that he is now living in a world in which he created, he is living one of his novels.
The trailer, which is embedded after the break, is fairly wacky and sort of reminds me of that adaptation of Kurt Vonnegut's Breakfast of Champions... and I haven't decided if I think that's a good thing yet. Also, the film was written and directed by relative newcomer Matthew Wilder, whose only other credit includes the yet to be released Inferno.
Poster from
CHUD
You might also like
G.H. (12 years ago) Reply

Looks pretty damn bizzare.
Almost as bizzare as this a la wikipedia:
"Dick was "resurrected" by his fans in the form of a remote-controlled android designed in his likeness[...]In February 2006, an American West airline misplaced the android, and it has not yet been found."
Weird.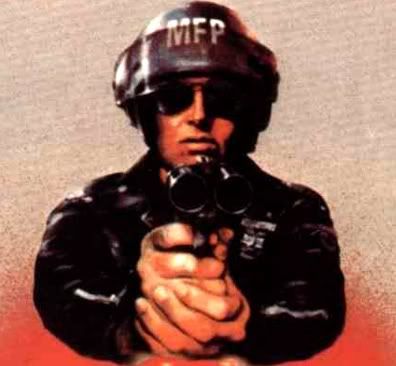 agentorange (12 years ago) Reply

That sounds really quite bizarre G.H.

Mike White (12 years ago) Reply

The mention of Breakfast of Champions scares the sh*t out of me. I'd rather gouge out my eyes than suffer through that one again.

Leave a comment