Latest news
quietearth
[Celluloid 07.07.08]
movie
apocalyptic
news
horror
animation
We first reported on Roland Becerra's short film
Dear Beautiful
in October of last year when it played at Toronto After Dark and had been running the film festival circuit for a while. What was great about it was the cutting-edge animation and the apocalyptic storyline which revolves around a couple in Connecticut having marital problems and the world crumbling around them. You can watch the short
in it's entirety here
. While doing some research, I discovered it was going full-length, and after repeatedly hounding one of the production companies behind it, they finally passed my info off to Roland Becerra himself who got in touch with me a couple of months ago. Fast forward to this past Saturday when I got this exclusive trailer along with a couple of clips from the film in the mail (which unfortunately I can't share but I assure you they're stunning), and all I have to say is WOW. Roland's taken the animation in the feature to a whole new level! Here's the rundown:
"The sudden appearance of exotic flowers in New Haven spawns an unprecedented epidemic rumored to be the result of a botched experiment by cosmetics giant, V-Zone. Paul and Lauren, a married couple, are caught between the catastrophe and their own troubled relationship when Lauren encounters one of the flowers and becomes infected. As her symptoms worsen, Paul's denial of Lauren's illness puts the couple in grave danger as the city is overrun with infected people, media frenzy, National Guard, protesters and a panicked populace. Struggling to maintain a normal daily life, Paul engages in a battle of wills with his best friend and business partner, Roger, as Paul tries to deny his wife's condition and Roger tries to take matters into his own hands. As the epidemic reaches a climax, Paul must confront the reality of his situation as well as the monster his friend has become."
Ladies and Gentlemen, I present to you the exclusive trailer, AFTER THE BREAK!
You might also like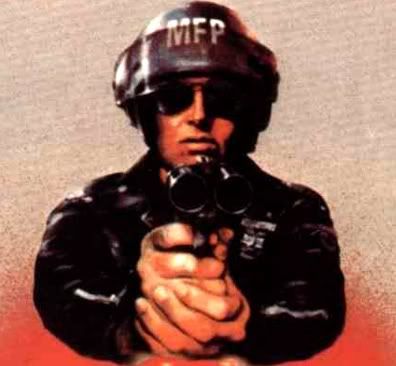 agentorange (12 years ago) Reply

The animation in this is really something to behold. after watching the trailer I finally watched the short and it looks like Becerra's even taking it to the next level in the feature length version. Very cool.

Cyberhal (12 years ago) Reply

great sfx/narration too

Anonymous (12 years ago) Reply

Put Sunn O)))'s "Sin Nanna" into good use...

Anonymous (12 years ago) Reply

THe link for the short film appears invalid. : (

Leave a comment