Latest news
John Allison
[Film Festival 09.06.08]
movie
review
animation
There is something very personal in Waltz with Bashir. It is a movie about recovering lost memories and having to relive traumatic experiences. During the Q&A, and from the sounds of it the Director was asked why animation. He mentioned how this is a common question and how his answer is always the same. There really was no way for him to create the movie in any other way. Waltz deals with a past event for which the director, Ari Folmon who is the main character could no longer remember and for which he discovered many personal events for which there is no archival footage. Truth be told, there is no real way of even really discovering if what he learned during the process even really fully happened. All of the events which he rediscovers took place during stressful periods and it is only through his discussions with other soldiers that he is able to get a glimpse into his forgotten past.
I haven't really mentioned his story yet and there is a reason for that. I do not believe that simply retelling his experiences here does Waltz justice. Waltz is such a personal movie that you need to see it told by the soldiers who experienced the events described.
During the majority movie I was quite glad that it was an animated feature. I was able to disengage myself somewhat the experiences and the tragedies which were shown on the screen. I do not want to give anything away but I will just say that Waltz with Bashir throws an emotional punch to the gut that knocked me out and I will be thinking about if long after the festival is over.
Official
website
You might also like
Taksu (13 years ago) Reply

link is broken.
http://waltzwithbashir.com/ this one works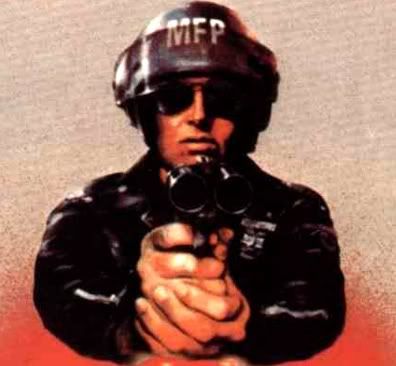 agentorange (13 years ago) Reply

Fixed!

Shay (13 years ago) Reply

One of the best anti-war films I've seen, certainly one of the best Israeli films I've ever seen. I also reviewed it on my site, interested parties should make with the clicky.

Leave a comment