Latest news
quietearth
[Celluloid 09.11.08]
movie
news
scifi
Whew, try saying that 10 times fast. Tentatively scheduled for a premier in October of 2009 at the Morelia film fest, the production design in this looks nothing short of fantastic although I have no idea what they're saying, so if any of our Spanish speaking readers could provide some insight, please leave a comment.
"It is the year 2033 in Mexico City, now called Villaparaiso (Paradise City). A military government controls society, taking from it its religious faith and freedom of expression. The main characters are Pablo and a "hidden" priest, known as Father Miguel, who transforms his life. Pablo leaves his privileged life in order to aid the helpless and destroy this system which controls the people through an addictive drink called "Pactia." In this way he fights alongside the "believers' to bring down the regime. Along the way, he meets Lucía, who gives him a reason to live."
There is a preview of almost 4 minutes after the break which showcases some of that great production design I was talking about.
Updated with synopsis:
In the 2033 futuristic society of Villaparaiso, formerly known as Mexico, the general public is manipulated by religion and a dictatorship regimen lead by General Jamaro. Jamaro is also the president of Phaarmax, a company that develops an addictive beverage that allows for the working subclass to work more than 12 hours a day, deforming their bodies. Pablo, a privileged young man looking to find meaning in his life, discovers the cover up and leaves his life of luxury to help out the revolutionaries. With help of Miguel and Lucia, Pablo struggles to find an antidote and fight the status quo.
The following video was removed.
You might also like
Avery (13 years ago) Reply

Basically in the year 2033 some big government organization has made slaves of the general populace. Taking away their freedom and making them work for them like robots. The young guy we see in the trailer works for that organization but then falls for the young lady and through his access to the company helps them rebel and escape to reclaim their freedom.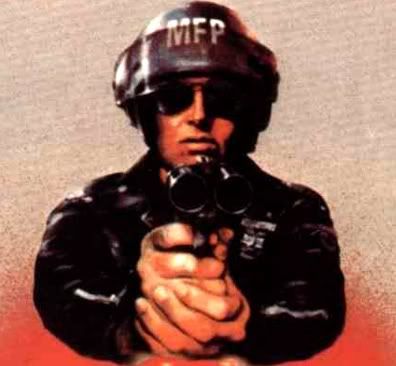 agentorange (13 years ago) Reply

This is like a Spanish Gattaca. Looks amazing.

quietearth (13 years ago) Reply

Thanks Avery

Avery (13 years ago) Reply

Anytime!! It looks really awesome. I'm actually looking forward to this one.

rek (13 years ago) Reply

So it's a Mexican film version of "We"?

quietearth (13 years ago) Reply

Can you provide an IMDB link of this film "We" because I can't find it.

Anonymous (13 years ago) Reply

by the way responsible for the production design was Marec Fritzinger

Leave a comment