Latest news
Hal MacDermot
[Film Festival 12.03.08]
post apocalyptic
movie
news
interview
Our boy cyberhal was lucky enough to get an interview with Michael Bartlett (The Zombie Diaries) in while he was visiting LA, and while we've been holding off on publishing the interview, we've received some further news. Michael is currently in talks with a number of artists to turn one of the feature films he has in the works,
Timeless
, into a graphic novel. A post apocalyptic film described as a cross between Sin City and The Butterfly Effect, the central theme of the film is addiction and it is through that we explore time travel in a way never seen before. Michael and Kevin Gates are also working on another film called
Forever Darkness
which is like a cross between The Mist and Pitch Black. While I can't give you many details it sounds awesomely apocalyptic. As an added bonus, there's a link to a PA short Bartlett did at the end of the interview.
Interview after the break!
CyberHal: How did the trip go? Were you happy with the way the release was handled? Did you feel The Weinstein Company did enough to push the film?
Mike: The release was quite good. There was a full page advert in Fangoria, lots of interviews set up by the distributor's PR people, and a few flash adverts here and there on the net. I got word from people around the US that the film was selling out in Best Buy stores, and this was confirmed when I popped into one in Las Vegas. WalMart has pleny of copies, though. I'm looking forward to seeing the final figures for the first quarter of sales.
CyberHal: What did you think of the cover art, out of interest? It is well documented you did not like20the UK version and this feels a little similar.
Mike: The UK cover art did a great job of selling the film, but I was never a big fan of it. My films are always very dark and mysterious, and bright orange colours just felt out of alignment with the film's tone. The USA cover art, on the other hand, was much, much better. It is still slightly misleading, but the colours are beautiful, and the image is very striking. I'm really pleased with what the Weinstein Company did with the movie.
CyberHal: The other purpose of your trip was to take some new projects around some studios. One of them is a post-apocalyptic film entitled TIMELESS, which is obviously of interest to us here at Quiet Earth. Can you tell us a little bit about the project?
Mike: TIMELESS is a time travel flick that I would describe as a cross between LEON and THE BUTTERFLY EFFECT. It approaches Time Travel in a completely new way that has not been done before. I wrote a 25 page treatment which I then took around to various studios and independents. I can't say too much about the film, but a key ingredient is that it revolves around the 2012 Olympic Games and a series of dirty bombs. The feel of the film is very much like the film, Se7en.
CyberHal: What kind of responses did you get?
Mike: Well 20th Century Fox are very interested in looking at the script, and I now have an open invitiation to send it to one of their development leads. The script is nearing its final draft and wasn't available for my trip, but the treatment was strong enough to show people. The meeting with them went very well - they saw Zom bie Diaries and loved it and were impressed with what we did for the budget we had. I also had a rather interesting meeting with the vice-president of Development for Columbia-Tri-star. He read a one-pager I had put together, and based on that he decided to take a meeting with me. The guy gets hundreds of scripts every week, so he didn't read the treatment. He asked me to pitch the idea to him at the meeting, and that, combined with the one-pager, ended with an open invitation to send him the script directly. He said he sees the film in a very Sin City meets Max Payne style. Normally people like this don't take unsolicited scripts, but the strength of the idea and pitch as really opened doors and got people excited. Here in the UK we are close to having the full funding for the flick, and we are also in discussions with a famous comic book illustrator who has already worked on two huge graphic novels that have been converted into movies, to turn TIMELESS into a graphic novel. Things are moving at a very quick pace, and we hope to give Quiet Earth the full exclusive when we announce the project.
CyberHal: So based on your comments, should we expect a sequel to Zombie Diaries or another horror project from you any time soon, or is that on the backburner now?
Mike: Well, I took a meeting with Ghost House (Sam Raimi's company) to discuss a horror project that Kevin Gates, the other co-director of Zombie Diaries, has written. Again, this was based on the pitch, and he has now been invited to send the script to their head of development. Zombie Diaries 2 is caught up in a sequel-rights mess at the moment. I am trying to get the various parties involved to begin a dialogue to resolve it.
CyberHal: You talked about having to pitch projects. What preparations, if any, did you make for pitching? Did you expect to be asked to pitch anything?
Mike: I always knew that pitching a project would come up sooner or later. You reach a point as a filmmaker, where you have to cross that bridge, unless you happen to have very rich relatives or friends. My prep was to attend the pitching competitions at The Austin Film Festival in 2007. There were some excellent panelists judging the competition, and there was also a workshop on the subject. I made a few notes and listened very studiously to the experts and then tried to incorporate that into my pitch.
CyberHal: Do you feel you learned anything from the last week?
Mike: I have learned that treatments should ideally be 4-8 pages. Kevin and I wrote in-depth treatments, but studio execs are so busy they would rather read a full script than a 40 page treatment, and I was told this directly. I also learned that Hollywood is very reactionary. The credit crunch has meant tighter asses in all industries, and with a lot of the hedge funds drying up, a lot of the smaller independents are simply scared shitless to make a move. Apparently there wasn't one domestic deal done at AFM this year, and that combined with the forthcoming actors' strike means I think we'll see a record low in film production this ye ar. But this is a cycle. The computer games market is taking more shelf space in shops, but people will always want to see films. And there is an endless supply of shelf space online. To suggest that DVD is dead or that the entire video market is dead, which some large personalities in the industry told me this week in person, is ludicrous. People have very short memories of booms and busts. Give it a few years and people will be wanking all over independent film (and the housing market) again.
CyberHal: So you expect some bad years ahead?
Mike: Yes. The only companies that wanted to discuss TIMELESS (And Kevin's horror film FOREVER DARKNESS) were the large companies that can fund 10 million plus. Everyone else is buttoning down the hatches and looking to ride out the storm.
CyberHal: If you can't make these dream projects, what will you and Kevin do next?
Mike: I fully expect one of the two film to be greenlit in 2009, but Kevin and I have a low-budget project which could have the same huge commercial impact of The Zombie Diaries all over again based on a very original idea. The next year will be a slow year, there is no getting away from it, but we have a lot of scripts to write, and a lot of interest in the new projects.
CyberHal: What advice do you have to anyone looking to go to Los Angeles to pitc h projects or take meetings?
Mike: Go for at least a week, have a good, consice treatment and also one-pager of the film. If you have any talent already attached it helps. Anything you can do to make your film look more like a film ready to shoot the better. I also recommend taking a maximum of two meetings a day, one in the morning and one in the afternoon, as the LA traffic is a nightmare. And get a GPS navigation system for your car!
CyberHal: Do you have any talent attached for TIMELESS?
Mike: Nick Gibbs-McNeil's company, Pitch Black, have approached a well known pop icon for one of the lead roles for me. I can't say who it is, but the guy is a legend and will be well suited for the role and for a time travel flick in general. I was also looking to attach the actress AZURA SKYE, but her manager blocked all of my attempts to send her the project until I could make what is known in the business as a 'pay or play' offer. In my opinion, this was a pretty dumb thing to do given the economic climate and the number of comparable films she's made in 2008. I think she's a fantastic actress, but I have had to end my interest for the time being. Hollywood is in many ways a big game, and I talked to lots of other directors about this who have had similar experiences. I think midway into 2009 we'll be in a position to make another approach. I also am currently taking submissions from composers for the soundtrack, which will have a hybrid feel of Blade Runner and Donnie Darko.
And as an added bonus, you can watch the post apocalyptic short film
Mnemosyne
Bartlett did for free
right here
.
You might also like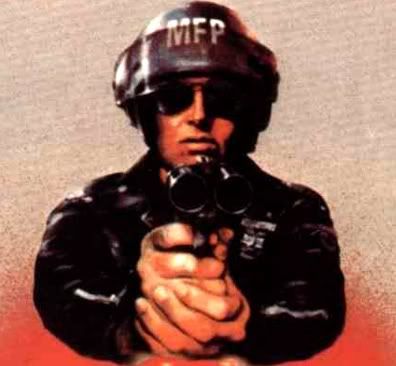 agentorange (12 years ago) Reply

"Forever Darkness which is like a cross between The Mist and Pitch Black."

Oh hells yeah! Bring it!

Hot Fuzz (12 years ago) Reply

Awesome interview! Every single one of those projects sound solid, amazing even.

Hollywood needs fresh ideas really badly and Michael Bartlett sounds like he's got them.

Meghin Frye (12 years ago) Reply

I'm excited, but at the same time I'm not holding my breath. The video market is dying here in the UK with a number of outfits going bust - I think film is going through what music went through four years ago.

I have no doubt in my mind that Bartlett and gates can pull off another great movie - and this time if they are given a budget to work with I'm sure it will be amazing. But the cynical side of me thinks Hollywood will play it safe with Saw 6,7,8 and a few superhero movies, and maybe a few more dawsons creek vampire movies.

I hope I am proven wrong.

Anonymous (12 years ago) Reply

This film meets that film. This soundtrack meets that soundtrack. Hardly original.

Zombeasy (12 years ago) Reply

I bought this based on the cover. And man do i feel ripped off!! It was just ok, dull but ok. Do not believe all the positive reviews as theyre wrong. This is simply a few people and badly done zombies stood about in a field.

Stay easy

The other Dude (11 years ago) Reply

Yeah, I know first hand the Zombie Diaries film was hyped up for such a rather dull movie. However, their budget was practically nothing and they made it work for them. I'm really looking forward to Timeless though as Mike will actually have a good budget for it. In case anyone is interested, here's a hint to who the pop icon for this film... Ground control to Major Tom.

Michael Cock Bartlett (11 years ago) Reply

The Zombie Diaries was a pile of shit. The cover hoodwinked people into buying a load of wank that looked like it had been filmed on a camera phone. Michael Bartlett is a cock who clearly has plenty still to learn. It seems that one DVD release and some "meetings in LA" and he thinks he's an expert! What an utter prick.

Still, looking forward to seeing just how shit "Timeless" is. I can see the pitch now - "A load of toss" meets "A pile of crap".

The other other dude (11 years ago) Reply

The other Dude - When did Lee Ryan cover David Bowie?

"Pop Icon" my hairy ballsack.

Whats next happening (10 years ago) Reply

The diaries was ok, you could see the storyline coming. When is Timeless due out again? things have gone very quiet. No news!!

Leave a comment