Latest news
Ben Austwick
[Celluloid 05.04.09]
movie
review
horror
Year: 2008
Release date: May 9th , 2009
Directors: Steven Sheil
Writers: Steven Sheil
IMDB:
link
Trailer:
link
Review by: Ben Austwick
Rating: 8 out of 10
[Editor's Note: Mum & Dad drops on R1 DVD tomorrow (May 5, 2009)]
The anonymous interzone of London's Heathrow airport and its surrounds is the setting for British horror movie
Mum & Dad
, a claustrophobic and intense film that follows a murderous middle-aged couple (based loosely on English serial killers Fred and Rosemarie West) who sell stolen cargo from the airport and take advantage of its transient population to fulfill their psychopathic desires. Despite being very much a part of the contemporary torture porn genre with its focus on drawn-out ordeal, Mum & Dad is unusual enough, and British enough, to stand out from the crowd.
It's Britishness is in its kitchen sink style, borrowed in part from modern directors like Mike Leigh and Shane Meadows but a continuation of a rich heritage that goes back to the 1960s, coming across in part in its slow-paced, dialogue-heavy style, but more so in its accurate and studied portrayal of people and place. The heroine of the piece, Lena, is a Polish immigrant working as a cleaner at the airport; the titular "mum and dad" working-class Londoners; the world around them the poor but unexciting suburban hinterland that serves Heathrow airport. Perry Benson as Dad is particularly well observed, a sullen, repulsive, middle-aged wheeler-dealer with an amorality that seeps over from the usual petty criminality into something much worse.
As horror movie psychopaths go, he is particularly unpleasant. Mum & Dad is brave enough to present his violence as sexual – a universal trait in real life mass murderers that is prudishly tip-toed around in most horror films – the most cringe-worthy and hide-your-eyes sequences generally involving his warped lust. A great scene sees the family sat around the breakfast table while a hardcore porn film plays on the kitchen TV, a nod at the weird household of the aforementioned real-life Gloucester serial killers Fred and Rose West.
It's this sort of slow burning nastiness that infuses Mum & Dad, a creepy torture of masturbation, binding and cutting that while decidedly unpleasant never explodes into the all-out violence we've come to expect from the genre.
This is a mixed blessing. While more intelligent and true to the kitchen sink traditions of British cinema, Mum & Dad doesn't really deliver any shocks or scares. The grim, relentless monotony of its horror never peaks, and indeed fizzles out in a straightforward ending that is particularly disappointing given the film's left field credentials. It seems that director Steven Sheil painted himself into a corner in trying to marry the diverse arthouse British and exploitation American traditions he has drawn on and, in the end, couldn't find a way out.
But Mum & Dad should be viewed as part of the latter, the exploitation genre, and in particular the modern torture porn offshoot it so obviously is part of. As such it is a welcome change from the suspend your disbelief, teenagers in peril cliché we so unquestionably swallow to get our shocks and gore. In ten or twenty years time when Mum & Dad is viewed as part of this peculiar moment in horror cinema, it will certainly stand out from the rest.
You might also like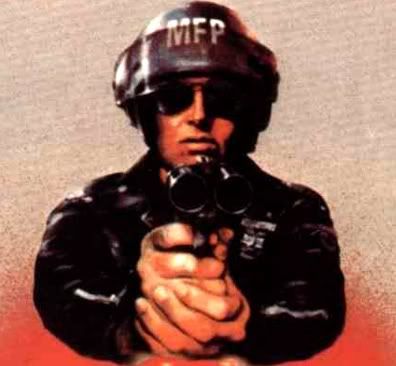 agentorange (13 years ago) Reply

Awesome review. I can't wait to see the film. You mention Leigh, a filmmaker whose early work I am a major fan of (Naked is untouchable). Isn't it interesting how some of his brightest contemporaries are turning to darker genres while he himself is going the "Happy Go Lucky" route?

Anonymous (13 years ago) Reply

Thanks :)

Mike Leigh has a good few films in him yet and I wouldn't discount something darker in the future. Having said that. maybe he's just getting old...

The flag's been passed to Shane Meadows though in a way - "Dead Man's Shoes" is a fantastic kitchen sink horror movie and "This Is England" is just an amazing film period

cyberhal (13 years ago) Reply

I'm looking forward to this one. I read it was made for less than 100 000 quid (150 000 dollars)

Richard Tilon (13 years ago) Reply

Looks like i am one of the lucky ones to have watched the film. I say lucky because for me this is quality British film making at its best. You mentioned the porn scene in your review which i have to agree sets the pace for whats to come, even the music from the porn scene is fantasticly crazy. 10 out of 10. Well done everyone involved and all for a budget of £100,000 ;)

projectcyclops (13 years ago) Reply

I'm not a fan of the film, but this is a really good review of it. Some interesting points here. Nice work Ben!

T (13 years ago) Reply

I just saw this film and I have to agree with most of the review. I agree that the "horror never peaks" but that was exactly what kept me scratching my hands the whole time. I agree that the ending was a bit subdued, but I prefer that to the "oh boy I made it" or "last minute surprise, no you didn't" that we've become so accustomed to expecting. From an artistic point of view, I thought the acting was superb.

paul (13 years ago) Reply

read all the reviews and then watched the film and i'm serioiusly glad i did!... i am a serious fan of gore... but this has that little something 'extra' that grips tha gut like a twisting blade.

there's a horrific realisim and a grim sense of posibillity about the film that makes it all to easy to beleive.

love it big time... if you haven't seen it then seriously think about it!

Leave a comment