Latest news
quietearth
[Celluloid 01.06.09]
zombies
movie
news
Normally I would say this is quite a treat, considering how long we had to wait for footage for
Diary of the Dead
, but after watching this and knowing Romero, we all know this is going to suck. Dude, seriously, we love you, but PLEASE STOP MAKING ZOMBIE FILMS! That said, we're all still going to watch it.
On a small island off the coast of North America the Dead Rise to menace the living. The islanders can't bring themselves to terminate their loved ones despite the growing danger for those they once held dear. A rebel among them hunts down all the zombies he can find only to be banished from the island for assassinating his neighbors and friends.

On the mainland, bent on revenge, he encounters a small band of Survivors in search of an oasis on which to build a new life. Barely surviving an attack from a mass of ravenous flesh eaters they commandeer a zombie infested ferry and sail to the island. There to their horror they discover that the locals have chained the dead inside their homes pretending to live 'normal lives' with bloody consequences.

What ensues is a desperate struggle for survival and the answer to question never posed in Romero's dead films.. can the living ever live in peace with the dead?
You can now watch the trailer after the break!
via:
Voltage Pictures
You might also like
sonaboy (13 years ago) Reply

Hey seriously guys - SPELL CHECK BEFORE POST.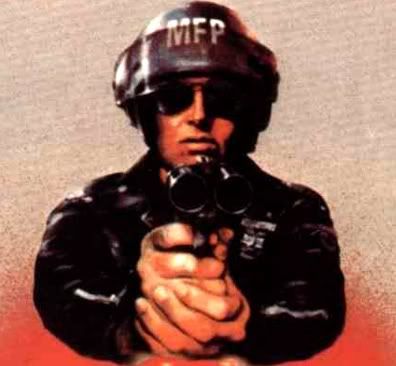 agentorange (13 years ago) Reply

Heh, sorry. Copy paste error. From the production website not us but nonetheless fixed.

sonaboy (13 years ago) Reply

heheh...not to be a nazi - but there's still 2 spelling errors after the fix.
"off the cost of North"
"danger fro those"

No charge!
lol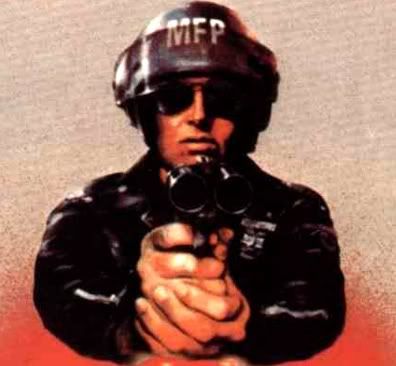 agentorange (13 years ago) Reply

Heil Sonaboy!! Haha, fixed.

Anonymous (13 years ago) Reply

Make the bad man stop!

rek (13 years ago) Reply

Romero lost me with Diary and Land.

Bob Doto (13 years ago) Reply

Ok. First, and not to be a curmudgeon, but Romero lost me after Night of the Living Dead. Second, I predict this will be yet another "idea is cool, but uber-lame forced-witty dialogue will disembowel it" zombie film. That said, this weird pseudo-Scottish cowboy island mash-up is more great stock for the zombie canon as a whole. Let's look at it globally. And that's why I agree with guietearth: we're all gonna see it.

a boy and his blog (13 years ago) Reply

Lost you after Night? WFT?!! Dawn is Amazing, Day is Great, Land was really good, Diary was meh, but this looks great so far. After NOTLD!! Blasphemy!

Fictis (13 years ago) Reply

The new movies are nothing compared to the original trilogy, I think Romero (like another Georges something... and his original trilogy...) got full of himself and made a bad comeback. After Land and Diary, I think the pit's bottom has been touched.

Bob Doto (13 years ago) Reply

Don't get me wrong, I "liked" Dawn, but it didn't affect me the way NOTLD did. The sound (or rather, silence) of NOTLD is so integrated into my psyche as to make quiet walks at night still a little unnerving. For me, Dawn is more of a "Now that we have color we can do all the things we couldn't in NOTLD" sort of film. Thus, more of an emphasis on RED blood and BLUE-GREY skin. But it doesn't have the ominous negative space that NOTLD had. Also, and this is so important, I saw Dawn way later in life. So, there's that...

brc (13 years ago) Reply

Lets face it, No matter how crap we all think the film will be. We'll still all see it, huh?

Leave a comment