Latest news
Christopher Webster
[Celluloid 02.11.09]
movie
trailer
news
action
thriller
It doesn't wink... my god it doesn't even smirk! Has Tarantino finally shed the post-modern noodling that was starting to seriously send his career down the sinkhole? Honestly, this teaser looks great. It might just be the best looking thing the man's done since his work became all about style over substance with
Kill Bill Vol. 1
. Eli Roth can't even bring it down, in fact his character looks deliciously sinister. Huh, I didn't think he had it in him...
I've been a massive fan of Castellari's original
Inglorious Bastards
for years (I'd recommend the new
3-disc DVD
) and this is obviously nothing like it. That's good though. Tarantino's kept the name and set up his own Dirty Dozen style WWII film. Plus I was starting to get sick of films being set in the past and putting so much emphasis on being historically "accurate." What happened to the Indiana Jones way of exploiting Nazis for entertainment's sake? This looks fun.
Teaser after the break
You might also like
Anonymous (13 years ago) Reply

Long story short...stale turd. Stop giving these nerds money to indulge their crapulance. Deutschland Uber Alis!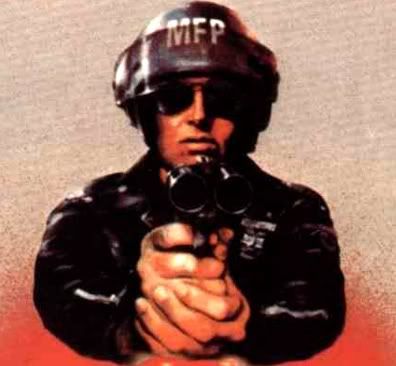 agentorange (13 years ago) Reply

What I like about the teaser is that for the first time Tarantino isn't playing the nerd card. It doesn't feel like a obvious mash-up of his favorite films. It just sort of looks and feels like a *gulps* regular movie.

Seems to me that it'll be his nerd followers who will likely be let down by this.

Plus Samm Levine from Freaks and Geeks is in it! Go Neal!

Anonymous (13 years ago) Reply

This looks like a slight departure for the ol' QT. Can't wait to see it. Also, it's "Deutschland uber ALLES". Just an FYI.

Jeff (13 years ago) Reply

Too much fun...Shaving Von Ryans Privates!!
Have to see this one.

ScandyMan (13 years ago) Reply

Lieutenant ALDO RAY??? Fuck. Yeah.

I agree that this looks surprisingly solid for a Tarantino film. Of course, i'll have to see it in it's entirety, but I can't spot nay a flaw in what was presented. I'm beyond sick of the nobody-does-it-like-Quentin-Tarantino lip-service BS, but I'm even less of a fan of the man himself.
I hope this less pretentious and actually satisfying than recent efforts. No showing off, just tell the damn story!

Leave a comment