Latest news
quietearth
[Celluloid 03.04.09]
movie
news
scifi
As I was
just getting sick
of posting the stills for this film the teaser has finally dropped, but it leaves a lot to be desired. In fact, it reminds me of
Event Horizon
which was incredible in concept, but was seriously lacking when actually watched. Please folks, don't do that to us with this one.
Two crewmen awaken from hyper-sleep aboard a spacecraft. None of their equipment is working, and their memories are incomplete. What was their mission? How much time has passed? Where are they? Who are they? As they try to piece things together, they discover they are not alone, and the ship's new inhabitants - tribal warriors carrying crudely made weapons - are moving among them, intent on killing all aboard. As the space travelers unravel the frightening and deadly secrets the ship harbors, they realize the survival of mankind hinges on their actions. They must regain control of the ship before PANDORUM takes over.
Teaser after the break. via
AceShowBiz
You might also like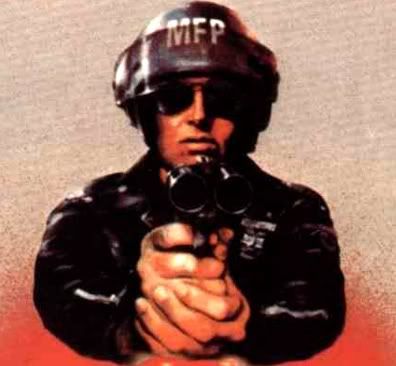 agentorange (13 years ago) Reply

looks damn good to me. Similar look to event horizon but with a more intriguing story from the looks of it... And more fighting chicks.

rek (13 years ago) Reply

I don't know about Event Horizon, but I'm getting strong Eden Log feelings.

quietearth (13 years ago) Reply

I hope not.. Eden Log was terrible.

Anonymous (13 years ago) Reply

Awesome! Looks great to me. I love Event Horizon but I don't really get that vibe here.
I'm one board for one reason Ben Foster. Dudes a great actor and does crazy characters just right. Looks right up his alley.

NO way I was looking forward to Eden Log...It sux?

rek (13 years ago) Reply

Eden Log is terrible.

Anonymous (13 years ago) Reply

New poster for Pandorum:

http://3.bp.blogspot.com/__THRTfg4DZI/SbChAMq4v6I/AAAAAAAABco/NV8mbYY7Q5g/s1600-h/pandorum_2.jpg

Eden Log is not terrible, it's not very good, and more style over substance, but it's very special and not for everybody.
If you still digg Blade Runner you should check it.

Anonymous (13 years ago) Reply

you welcome.

quietearth (13 years ago) Reply

thanks!

Elias (13 years ago) Reply

I thaught personally that the Event Horizon was an incredible well written sci fi horror movie, especially if you consideer the revolutionary concept of the movie. They fold space and jump so far into the regions of space, that they end up in another diménsion. its just that part about hell and they are talking latin i find annoying.
That really had nothing to do with science, but none the less, it was a great movie.
I hope the Pandorum will deliver a even better masterpiece

Restful Watcher (12 years ago) Reply

What if Pandorum is some sort of a prologue to Event Horizon?

Leave a comment