Latest news
Simon Read
[Film Festival 05.04.09]
post apocalyptic
zombies
movie
review
comedy
Year: 2008
Directors: Logan McMillan
Writers: Logan McMillan
IMDB:
link
Trailer:
link
Review by: projectcyclops
Rating: 7 out of 10
A true PA zombie comedy from New Zealand, Logan McMillian's 'Last of the Living' starts off with the end of the world thanks to that dang old plague of flesh eating zombies destroying almost all of humanity. Three buddies Ash, Morgan and Johnny happen to live a very comfortable life though, moving from vacant house to vacant house and raiding shopping malls for beer, chips and DVDs. Bored of their latest home the guys pack up Johnny's car and head to pastures new. Deciding that a church might be fun for a while, they run into Stef and her father. Stef is a feisty young scientist looking for a zombie blood sample to help find a cure and reverse the effects of the plague, and after some persuasion the boys agree to help her out and head to the hospital to grab equipment and get out of town, all the while trying their respective luck at chatting her up with their unique set of moves.
Last of the Living manages to easily transcend it's low-budget roots with inventive camera work, slick special effects and enough jokes and good humour to keep us cheering them on until a surprising last act. Much of the comedy comes from the dynamic in the group, Ash is sensible with his padded gloves, football helmet, knee pads and golf clubs, Morgan relies on his trusty baseball bat, "I made this! Well, I bought it… I stole it actually, because that's the kind of guy I am!" (talking to himself in a mirror, Taxi Driver style). Johnny is the wild card, the other guys found him one day on his roof rocking out on guitar, flipping-off the zombies below. Stef would seem to be the only truly level headed one, baulking at the boys sheer stupidity, and they are very careless about personal protection given the world they live in. On my notes made during the screening I scrawled, 'They're so dumb! You wonder how they even survive. Idiots! Don't even follow the zombie rules!' which proves that I'm a massive geek, and also that the filmmakers obviously wanted something different from their heroes other than obsessing over personal safety and sensible planning. I would not like to be with these guys when the outbreak occurs, one is amazed they've lasted this long, but then again that's precisely why they're so much fun to watch. Let's just say Max Brooks would be furious.
As said above, the budget is low and the actors are not pros, but a sense of self-awareness covers this pretty well. Before the outbreak Morgan's character was a bit part actor and in one early scene he defends his talent by stating straight faced to Ash, "What are you talking about? I'm a really good actor!" Short of a wink to the camera this helps establish that these are enthusiastic young actors giving their all, and it got a pretty big laugh too.
One thing that stuck out is the characters constantly going for naps, as a road movie that takes place over a day I suppose McMillian needed time for the individual characters to interact separately but it was an odd thing for them to take turns having a little sleep when it was clearly daytime outside and there are zombies around every corner. Personally I was a little perturbed by the amount of gay slurs that Morgan and Johnny lobbed at meek and bespectacled Ash. It's one thing to call someone a wimp for wearing extra gear, but the non-stop queer bashing was a little weird, especially since Ash was clearly after Stef as much as they were, that's perhaps a difference in Kiwi/Brit humour though. It would also seem that most of New Zealand's zombie population are young guys with heavy metal t-shirts and bandanas. Need extras? Get your friends!
Still, Last of the Living is an undeniable treat from a talented bunch and it has it's fair share of new ideas and additions to the whole zombie oeuvre (the sight of a parachuting zombie having been pushed from a plane and trying to make sense of what's going on was just inspired). The soundtrack is kickass, the head busting nicely coordinated and the laughs are in there too. DVD is out 11th May 2009.
You might also like
panic (13 years ago) Reply

Any news on when this film will get region 1 release?

Ben Austwick (13 years ago) Reply

Sounds like fun, but the homophobia seems a bit odd. It's not something you see in US productions much anymore either (or if you do it's coming from a character who's an idiot).

The Dead by Dawn festival sounds like a riot BTW, I'm pretty jealous.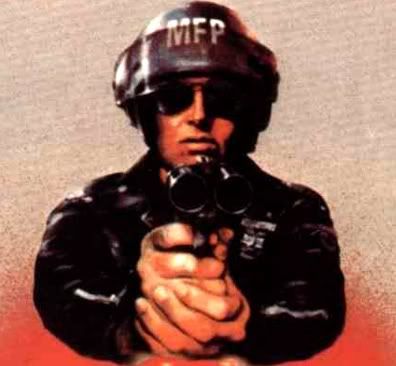 agentorange (13 years ago) Reply

Sounds like a solid zombie romp but did it pull in the scares as well? In my mind you need both to pull of a full meal zomedy deal.

projectcyclops (13 years ago) Reply

It wasn't terribly scary for the most part, the emphasis was on the laughs. The gore and violence was more comical, but very bloody. Also there is that 'surprising last act' I mentioned, things turn around very suddenly for the characters and there's a massive shift in tone.

Logan McMillan (13 years ago) Reply

Hey there - no we don't have any news on a Zone 1 release. It is out in Germany and the UK. With a bunch of other places soon to follow but no North America yet.

Thanks for the good review - interesting to see how our kiwi humor is received overseas.

We actually shot two endings - one light and one darker. You can watch both on some of the DVD releases.

Cheers!

Logan

Zombob (13 years ago) Reply

I wonder if it will be region 0 in the UK. Some of their releases are.

sunolet (13 years ago) Reply

hehe zombies... ash

Leave a comment