Latest news
Christopher Webster
[Celluloid 06.09.09]
post apocalyptic
movie
news
The Ravagers
is another in a long line of Hollywood backed PA films from the 70s that, despite sporting some pretty big names, just seems to have disappear off the face of the earth. That's right folks. No DVD. Nadda. There was a VHS copy released in England ages ago but other than that the film has become something of a PA legend over the years and a real coveted item for collectors.
The quality of the film itself is up there with another of the era,
Ultimate Warrior
which, like The Ravagers, starred big names like Max Von Sydow and Yul Brenner. A little dated maybe, but still great fun. That film was recently
releases on DVD
as part of a double feature with Montgomery Tully's
Battle Beneath the Earth
so I still have hopes that we'll see The Ravagers hit home video one day.
Synopsis:
In a post-apocalyptic world divided between two groups called the Flockers and the Ravagers, an adventurer and his "pleasure girl" try to find their way to a rumored safe haven called the Land of Genesis.
I haven't even mentioned the films pedigree yet. It was directed by hired-gun Richard Compton who's directed basically everything that's ever been on TV. Everything from
Baywatch
to
Babylon 5
, to the
X Files
to
Home Improvement
was lensed by this guy. That, plus the fact that the film stars greats like Richard Harris, Ernest Borgnine, Woody Strode, Ann Turkel, Art Carney etc. makes me wonder why this film has been hidden away for so long. Is it really that bad?
Check out three production images after the break. I found them attached to a great article on the film published over at
BlackWhite
, an online paper from Birmingham (where the film was made).
You might also like
Anonymous (12 years ago) Reply

FYI... I just found this movie on DVD over at iOffer.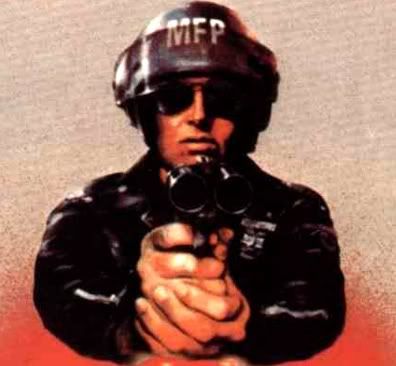 agentorange (12 years ago) Reply

I saw that. That copy appears to be no longer available and besides it's probably a dodgy bootleg copy of the VHS. Sigh. The quest continues.

Anonymous (12 years ago) Reply

There were two sellers offering them. If you search for ' RAVAGERS Richard Harris ' you'll still find one of the sellers with the poster art shown here in their ad. It's most definitely a bootleg copy of the VHS, but they list the quality at 7/10. Subpar versus no movie at all? I'll go with subpar, especially after seeing the first photo listed above.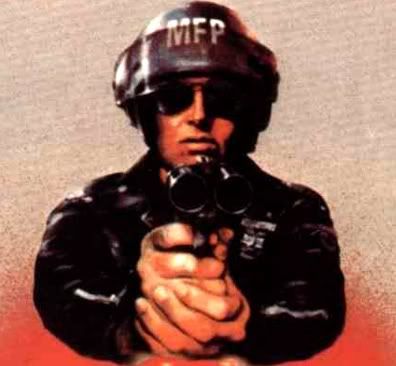 agentorange (12 years ago) Reply

Thanks for the info all!

Anonymous (12 years ago) Reply

I've always enjoyed this film and am lucky to have the VHS of it.
It's amazing how similar to the later mad max rip offs it is.

Pforts (10 years ago) Reply

I've got the VHS. Big fan of post-apocalyptic whatever but this has to be one of the most tedious, overwrought timewasters around. Very nice scenery though, mainly shot in Arkansas I believe. God I loathe Richard Harris. The villians were pretty woeful too. Much prefer Aftershock (1990) which isn't actually much stupider, just less bogged down in pseudointellectual 70's sanctimony.

digitalgodd (9 years ago) Reply

I have a DVD copy in my PA film archive
1000futuristicfilms.weebly.com

clarkman (9 years ago) Reply

A standard definition non-remastered but LETTERBOXED version of THE RAVAGERS is now for sale at iTunes:

http://itunes.apple.com/us/movie/ravagers-1979/id320477950

flafilm (6 years ago) Reply

I have a RCA/Columbia Pictures Silver Series (NTSC) VHS copy (CVT10106) copy if anyone is dying to have
a vas hard copy inter collection. I was actually living in
Huntsville, AL where they shot all the caverns footage
& met one of the producers, John Hyde. No reasonable offer refused.

Rfilm (6 years ago) Reply

I could only have seen this film on T.V. I saw it once and recalled Ernest B. which made me take notice... Like He was a top actor... I am surpised to see it was made for release cause everything about it seemed "Made for TV" at the time. The line that stayed with me was the one regarding "The Genesis Prject" "I guess we're it". Searching for that is what brought me here. HuH!

Leave a comment