Latest news
Simon Read
[Film Festival 06.28.09]
movie
review
comedy
crime
Year: 2009
Directors: Gary Yates
Writers: Gary Yates & Lee MacDougall
IMDB:
link
Trailer:
link
Review by: projectcyclops
Rating: 7.5 out of 10
I must confess that for some reason I've always quite liked Timothy Olyphant, he's made some terrible choices over the years, but I rate him as a good actor and a likable screen presence. Here, he's the reluctant leader of a group of misfits who stage a bank heist in the America of 1983, and it works really well.
Olyphant plays Dick, a hospital janitor who's done some serious time in prison, and only just managed to get his life back on track, albeit with a continuing dependency on morphine ("The drug of choice for the intelligent addict"), for which a job in a hospital can be useful. Out of the blue, his old cell-mate Bug (Stephen Eric McIntyre) turns-up and manages to get him fired. Bug's a tough guy with a similar interest in drugs and booze; having been away inside for so long he marvels at the 80's music, changes in drug culture and most of all, ATM's. On the way home, after Dick's been given marching orders from his boss, the pair spot a cash machine being repaired and it gets them to thinking.
Dick calls his old buddy Donnie (Joe Anderson), a speed freak with one lung and a bad reputation, he gratefully agrees to join-in. Enthusiastic, but none-to-bright, Donnie and Bug immediately start to squabble while Dick tries to find the fourth man for the gig. Visiting his weekly AA meeting, he spots Billy (Rossif Sutherland), a French kid with a permanently goofy smile and a lot of stories about his drug smuggling days, he's happy to complete the line-up and off they go.
Of course, things don't go to plan, and all hell breaks loose with an intense shoot-out and rising body-count, the boys try to figure the best way to get the cash and bolt the hell out of there. The comedy value of High Life is definitely in the characters. Dick's sensible and bright, having earned his nickname, 'The Counselor, inside, yet he's surrounded himself with morons and is in way over his head. Bug's basically psychotic, and prone to initiating sudden brawls at the worst possible times. Billy's kind of happy-go-lucky; after getting shot during a fight, he's relaxed enough to go to the local store and buy a soda, then wonder back into all the action, flirting with chicks as he does so. And Donnie, he's probably the most sympathetic with his various illnesses and simple desire to visit the bathroom, so he can finally pee. There's also the wonderfully bizarre situations they keep finding themselves in, the film has one of those great, what-ever-next, vibes running through it, as well as fantasy cutaways, such as when Dick's watching a corporate video about ATM's and the man on television starts to explain to him how easy it would be to rob a bank, "Yes Dick, it really is just that easy! You should try it!"
There's a fair amount of buzz about for High Life, most of it warranted; it's slick, funny, well written, well performed and very entertaining. The story feels familiar, but has many unexpected twists, perhaps it benefits from being an adaptation of the play by Lee MacDougall.
You might also like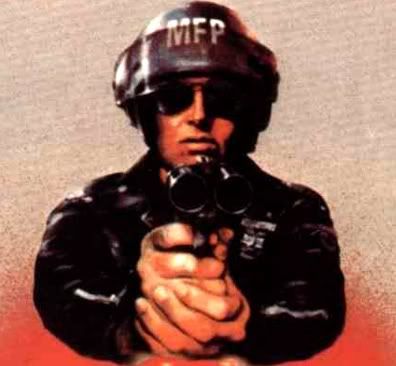 agentorange (13 years ago) Reply

"I must confess that for some reason I've always quite liked Timothy Olyphant."

One word. Deadwood.

projectcyclops (13 years ago) Reply

Maybe one other word: Cute.

Leave a comment