Latest news
Christopher Webster
[Celluloid 07.03.09]
movie
news
horror
animation
Who says a cartoon can't shake you up first thing in the morning.
Blood Trail
is a three minute trailer for an ambitious CGI horror piece based on a screenplay by writer Matt Cochran. If enough people are impressed with what we see before us, it's expected to be developed into a feature film, video game and/or graphic novel so I thought I'd post it here for all to see.
Be warned though. It may be a cartoon but it's definitely NSFW so wait until after the boss leaves the staff meeting to crack the laptop.
Trailer after the break via
Twitch
.
You might also like
Anonymous (11 years ago) Reply

This is absolutely fantastic

witchman (11 years ago) Reply

whoa horsey!!!!!!! I wasn't expecting that. As a huge fan of Richard Corben...this is right up my strasse. Nice work guys!!!!!

Vman (11 years ago) Reply

BAM! Got my attention right away! This demanded my first post here! (long time lurker)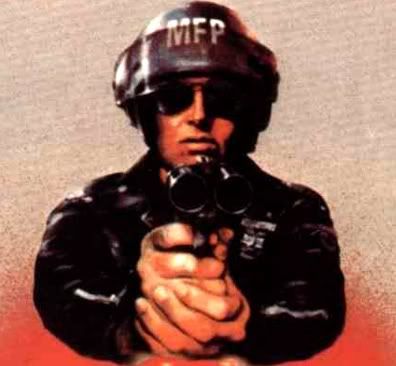 agentorange (11 years ago) Reply

Heh, welcome Vman! I look forward to many more comments in the future... and yes, I hope they turn this into a feature. It would be nice to see some adult CGI animation get some attention for a change.

RamblinSydRumpo (11 years ago) Reply

Absolutely brilliant! More please asap!!

AwNeeDis (11 years ago) Reply

AwNeeDis so very badly. Tis the cream in my butter and the rev in my engine. MORE MORE MORE MORE!!!

Kelly (11 years ago) Reply

This is brilliant! I don't know who we need to contact to make sure this gets made, but please post it! I've shared this on Twitter and everyone who has seen it has been absolutely floored. I never thought animation of any sort could really scare me, but this clip made me squirm! We need a full length feature animation pronto.

Jonas (11 years ago) Reply

Wow, that was waaaaay more brutal than I expected. :S I really liked the animation too.

Anonymous (11 years ago) Reply

when is the release date?

luis (10 years ago) Reply

Does anybody have new info for blood trail
is going to be a movie game.
need info.

Leave a comment