Latest news
Christopher Webster
[Celluloid 07.16.09]
post apocalyptic
zombies
movie
trailer
short
Heavily influenced by Romero, "World War Z" and "The Walking Dead" graphic novel, director Turner Van Ryn weaves a tale of defeat and redemption in the face of an enemy that will never stop... yep, you guessed it zombies!
It's actually been a while since we've shared some indie zombie goodness so this first trailer for the long awaited short,
The Hell Patrol
, suits me just fine. You may remember the
first teaser
that dropped back about a year ago. It was cool, but contained no footage; just a graphic novel montage, so as I said, long awaited.
Synopsis:
Lt. Sandi Fletcher leads her beat up squad of "Hell Patrollers, across a post-zombilyptic California, fighting their way through the undead, back to the safe city of San Francisco.
Trailer after the break.
You might also like
Anonymous (12 years ago) Reply

Looks bad ass!

John Carpenter (12 years ago) Reply

I know that music from somewhere. hmmmmmmmmmmmmmmmmmmmmmmmmmm....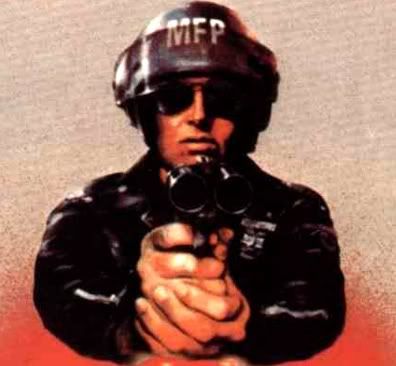 agentorange (12 years ago) Reply

Hold on, I can't believe I don't notice the music. It's "The Thing" right?... sounds like it could maybe be EFNY but... no, it's "The Thing" for sure.

Mr Original (12 years ago) Reply

The music is from 'The Thing'

Leave a comment