Latest news
Hal MacDermot
[Celluloid 07.20.09]
musical
comedy
fantasy
Year: 2009
Directors: Richard Elfman
Writers: Richard Elfman & Matthew Bright & Nick James & Nick L. Martinson
IMDB:
link
Trailer:
link
Review by: Hal MacDermot
Rating: 8.8 out of 10
The Forbidden Zone is a master piece of insanity that defies description, but I'll give it a go. Richard Elfman's film is the ultimate midnight movie, an raucous energy filled mixture of giant frogs, dice, an always topless princess, people who speak in French accents, cut-out Gilliamesque animation, Expressionism, a midget King played by Herve Villechaize (yes, from TV's Fantasy Island), the music is by (the) Danny Elfman (Tim Burton's movies) and the Elfman Bros's band Oingo Boingo with tracks from Cab Calloway and Josephine Baker, and then of course there's…The Sixth Dimension!
The film was originally shot in black and white, a kind of tribute to the 1920s/30s cartoons of the Fleischer Brothers (Out of the Inkwell, Betty Boop), but now has been colorized for the first time by Legend Films in San Diego. At the screening, Richard Elfman said that originally in 1980 he'd wanted it to be sent over to China for every frame to be hand painted, but that was a tad over the budget. I haven't seen the black and white version, but I can tell you that in color it looks fantastic. Before the movie started, Richard Elfman marched around the Egyptian theatre on Hollywood Boulevard in a clown suit banging a big drum and accompanied by a topless model, a French dancer, and random accordion and trumpet players. After watching this film, I will never be quite the same, in a probably good way. Uncle Elfman, can I come and live on your planet?
"Friday, April 17" at 4 pm in Venice, California. Huckleberry P. Jones, local pimp, narcotics peddler, and slumlord, enters a vacant house that he owns. While stashing heroin in the basement, he stumbles upon a mysterious door, and enters it, falling into the Sixth Dimension, from which he promptly escapes. After retrieving the heroin, he sells the house to the Hercules family."
The horrible Hercules family move in and the daughter Frenchy (the feisty and fantastic Marie-Pascale Elfman), accidently takes a tumble down into the 6th Dimension. Her route is an animation intestine which plops her out into a large pile of poo. Merde Alors! Frenchy meets a giant frog, Mr Bust Rod, who works for King Fausto, ruler of the Sixth Dimension, and highly sexed midget. The King falls in love with Frenchy, who yes speaks with a heavy French accent as of course does Herve Villechaize. Unfortunately, the Queen played bustily, gustily and brilliantly by Susan Tyrell, is so jealous she has Frenchy thrown in jail. Tyrell's make-up is an Expressionist dream, and so is the set decoration. Marie-Pascale Elfman, who at the time was married to Richard, designed and painted all the sets, which are mostly hand painted scenes painted on paper that were hung up in two Hollywood soundstages. There's a repeating dice motif, and all kinds of 1930s cartoonish fun art. Most of the female characters wear Mickey Mouse ears, and in fact so did several of the audience. Add to the mix, the insane "Kipper Brothers" who do a mad musical number as boxers which involves punching themselves and blowing raspberries, and evolves into a Rumba sung by a fat kid with a Mr. Ed talking mule superimposed mouth effect, and the adorable Frenchy dancing with Mr. Bust Rod. The scenes between the jealous queen and randy king are made even more interesting by the fact that Susan Tyrell and Herve Villechaize had previously been lovers in real life. At the time the movie was shot, they were no longer an item, but there was reportedly the occasional ex-lovers' tiff (she would bellow, he could not).
The Queen sends Frenchy to a torture chamber for electrocution, but the ever rebellious maiden is saved by a power cut. Throughout the story, Frenchy's main weapon is her tongue which often she sticks out at the mean Queen. It's actually dead cute. Frenchy's Grandpa and brother Flash come to save her but they end up trapped in the animated palace septic tank. I could go on, but in fact, the plot's not really the point in all of this, it's more about watching spontaneous beautiful lunacy caught on film. A banquet table lit by a naked man, a human candelabra, who's suspended in chains above the food and holds candles. A boy who acts like a chicken, Squeezit Henderson, and when he gets decapitated, his head sprouts chicken wings and he becomes a messenger. Then of course, there's the fantastic cast. Squeezit is played by Matthew Bright, who later wrote Freeway and Ted Bundy. Oingo Boingo are all there and yes Danny Elfman is the evil Satan, lusting after King Fausto's daughter, the scantily clad princess. Add to the mix tracks by Cab Calloway "Minnie the Moocher" and Josephine Baker, and many people in their underwear, an my friend, you've entered The Sixth Dimension. The closest movies would probably be Phantom of the Paradise (1974) and the Rocky Horror Picture Show, but those are tame in comparison. I would also throw in some Flash Gordon from the 1930s, a dash of Terry Gilliam, and I think yes, The Wizard of Oz on mescaline. In other words, I strongly recommend The Forbidden Zone.
In the question and answer session afterwards a respectful fan asked Mr. Elfman "what the f### were you thinking?" Elfman replied that he was trying to capture on film the spontaneous creative energy of his legendary band "the Mystic Knights of Oingo Boingo." I wish I'd seen this band! In the 70s they performed all kinds of crazy performance music theater, a kind of tripped out cabaret in L.A and NYC. Musical whizz Danny Elfman later took over the band, and it's his toe tapping music we hear in the movie. Check out the Oingo Boingo performance on the Gong show in 1976 on YouTube, it's insane. Richard told us he was all psyched up to punch the annoying little guy on the jury if they got Gonged. The fact they didn't is a tribute to the 1970s if you ask me. Later on in the 80s Oingo Boingo became more New Wave and pretty big. Actually, the manager in my local Trader Joe's grocery store (a pseudo organic paradise pretending it's not a chain) did me the favor of singing me a few bars of one of their old hits "The Cat is Dead." I was very impressed, but I would have been way more impressed if the cute girl who works at the same store had agreed to come with me to see the movie.
We had Richard Elfman on the stage and Matthew Bright on the telephone. In the audience was Marie-Pascale Elfman. Also on stage was Michael Holmes, whose Sacred Fools Theatre company is doing a stage adaptation, opening in May 2010. Fittingly, Michael was dressed in his underwear, as Squeezit Henderson/Chicken Boy. We learned that in the early 80s when the film came out, it actually had to be pulled from some theaters due to threats of arson. A few of the politically correct brigade took offence to the use of archaic racial stereotypes. Richard's response was that he was creating "the world as a cartoon with everything exaggerated," and so everything in the movie is some form of exaggerated and larger than life image.
Richard's current projects include a movie "Brave New Rosenburg," and TV series interviewing celebrities in Vegas, and…Forbidden Zone II! The plot goes something like this (Quiet Earth reported on this on June 29, and I'm going to semi quote from that):
Ma and Pa Kettle leave Kansas and the depressed Dust Bowl with their two kids, Stinky and Petunia. Stinky is a hyper-active 12 year old, played by a hyper-active 60 year old. Petunia is a lumbering 13-year-old slut, played by an actress over 18 (hopefully); Ma is a corn-cob pipe-smoking inbred, and Pa is a craven, drunken carnival geek…with a bad disposition…even before his carnival job folded after the last dust storm. Together, they hope to find a better life in California. They move to Crenshaw, in Los Angeles. Unfortunately, the little shack they rent has a basement connected to the Sixth Dimension. The scenes in Crenshaw will be shot in Ghana, as he wants to make full use of Ghana's national dance troupe. Also, Crenshaw will be designed to look exactly like 1920s Harlem, New York. Matthew Bright said he wants to play Grandpa, and Danny Elfman will again play the Devil
So there you have it. And if you recognize the Forbidden Zone theme tune, it's because Danny recycled it for use as the Dilbert TV cartoon theme tune!
You might also like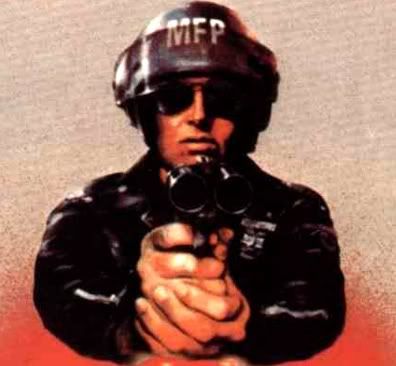 agentorange (12 years ago) Reply

Legend films often colorize films that don't necessarily benefit from it (Night of the Living Dead, Carnival of Souls, Last Man on Earth) so I'm glad they finally used their powers for good.

I'm definitely going to track this down and give it a spin.

projectcyclops (12 years ago) Reply

Great review, I'm jealous.

Leave a comment