Latest news
Christopher Webster
[Celluloid 08.21.09]
post apocalyptic
movie
news
scifi
Barry B. Longyear's Hugo award winning novella, "Enemy Mine" is a science fiction masterwork about the human propensity to succumb to xenophobia. In the book, a human and an alien soldier, whose races are in a state of war, are marooned together in space and have to come to grips with their blind hatred towards each other in order to survive a hostile environment that is foreign to them both. The eventual film adaptation by Wolfgang Petersen is actually pretty decent and if you're at all a fan of 80s scifi and haven't seen it you really should.
Director Shaun Rana has a film in early development called
Days of Victory
which, while still scifi, brings the metaphor back down to earth, so to speak. Taking place in a post-apocalyptic future world barely standing after decades of wars between Muslims and the rest of the world, two soldiers blinded by hate meet on the battlefield only to end up having to rely on each other for survival.
Synopsis:
In 2011, WWIII broke out between the West and the Muslim world. The world split in two leading to large scale emigration. The New World Order (NWO) was formed and fascism spread across the world. 90% of nature was destroyed.

In 2152, tension escalated and WW IV broke out. The NWO dispatched "artificial intelligence" troops to wage war against the Muslim community. The war lasted several years with much bombing and destruction. Even so, the Muslim world became a big nation. NOW united the neutral countries to expand their allies and prepare for total elimination of the Muslim world.

The Year is now 2200. WW V has begun and the world has become a post-apocalyptic society with Muslims on one side and the rest of the world on the other – both sides united in hatred towards one another.

The story revolves around two fighter pilots from each side of the world. They meet during an air attack where they are forced to fly into the desolated area where no one has lived for decades. After an intensive air strike, both planes are damaged and forced to land and continue the fight on land. Soon the two pilots realize what the war has done to the world: inanimate nature, tornados rage past them, tons of garbage lines the desolate streets and war materials fly by them. After fighting for days they lose communication and realize that despite their differences they need each other to survive. With the climate as their enemy, they are 2000 miles from freedom: left without food or transportation. As they struggle to survive, a friendship grows between them.
As stated above the film is only in the development stage and looking for funding, but I think Rana has taken a classic cold-war era story and made it work in a way that's relevant to today's global political climate. Plus, the concept art is hella cool. Keep you posted!
You might also like
Wilcoy (13 years ago) Reply

Interesting story line and especially in today's world but, I wonder at the end of the film will people stand up and raise and extend there arm and shout,"Sieg Heil" or "Allahu Akbar." The concept art does look really good.

Jay.Mac (13 years ago) Reply

That's hilarious- the UN declare war on the Muslim world? Are you kidding me? It's a wretched hive of scum and villainy already- just take a look at the Human Rights Council, filled with some of the worst human rights offenders on the planet.

If they wanted this story to be even passably linked to reality the UN would be siding with the Muslim world against the US.

And from the sounds of the synopsis the West are the one and only bad guys here- way to endear yourself to the audience!

Skinstripper (13 years ago) Reply

I agree. Whoever wrote this has no clue about the US and our relationship with the UN. It would be the US vs. The Muslim UN.

Anonymous (13 years ago) Reply

i guess that this story is telling you that people you were told to be bad guys are also people like you, being told exactly the same thing - that you are the bad guy. political fiction isnt really important here.

and going a bit offtopic, from my side of the world US doesnt seem like the best human rights defender. however i dont think that human rights are important for large scale politics. more important is to make people believe that they are.

Skinstripper (13 years ago) Reply

It's a pretty tired story, I think. It's pretty much straight out of multiple other projects, with this dead nature "twist", which doesn't really bring much to the table.

Anonymous (13 years ago) Reply

So...diplomacy fails, and suddenly nature does too?

>_>
<_<

I'm very intersted in the explaination to this...

Anonymous (13 years ago) Reply

This sounds like an awful film made by a politically clueless fellow. Which, of course, means it has a darn good shot at getting picked up by a major Hollywood studio! LOL!

rek (13 years ago) Reply

"way to endear yourself to the audience!"

Are you sure you know who their audience is? Judging by the awkward phrasing in the summary, I don't think it's necessarily the English-speaking world.

Skinstripper (13 years ago) Reply

I agree with rek. I think it's a Muslim oriented film, which is good to see a "sci-fi" futuristic film from and for another culture. Shows the mindset, the world against us paranoia. Who knows, perhaps it could be toned down, adjusted, and made more for everyone's consumption. It doesn't have to, as ultimately I don't think it matters if the west likes this film or not. There's hundreds of millions of people this movie has a built-in audience for, and perhaps they'll get funding. It would be good to see this genre take off in other underdeveloped markets. Also, it's not inherently, in the setting, a bad film. It tries to show how we're all the same in the end. Not a bad premise, and not a misguided one either. It's just not original to western audiences, but I bet it will be to middle eastern and generally muslim ones.

Pat (13 years ago) Reply

3 world wars in one movie? what a crack of shit.

why even post rubbish like this. it ll never get made in this form. complete B/S.

donc48 (13 years ago) Reply

This reminds me of a saying in the 1970's about some of the scfi that was starting to rear it's ugly head "If you want to send a message use western union."
The UN aganst the Muslim World? Ok that horse has been beat to death. If your going to do scfi do some research the people who watch scfi and read scfi are much more aware of what's happening in the world than the readers of say Twilight. I see this stuff and I cringe, and I fear for the genre I love.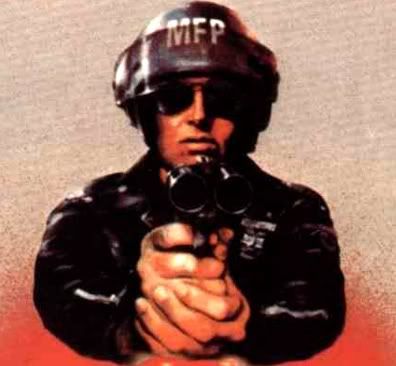 agentorange (13 years ago) Reply

@ Pat

I doubt all three wars feature in the film. Rather, they will be explained as part of the world's backstory.

The All Hearing Ear (13 years ago) Reply

This sounds terrible. There are so many issues I could pick with the synopsis alone, the idea of a 'muslim world', or even the west for that matter, as a united an homogeneous agent, being the biggest issue. For sure, I understand the concept of suspending disbelief for narrative purposes, but come on. The moral 'we should all get along' point really looses force with such ridiculous back story.

Anonymous (13 years ago) Reply

This sound like a cool and interesting movie. Not a typical Hollywood polished movie.

I could'nt help notice the comment by "donc48"
"people who watch scfi and read scfi are much more aware of what's happening in the world than the readers of say Twilight"
I must say that this is deffently the most idiotic comment I have ever heard.
So after your opinion sci-fi readers are some kind of political geniuses???
Last time I checked sci-fi readers were neards who spends 24 hours behind a computer screen thinking that they know it all (witch I bet you are). And NO, captain Kirk aint real!

Leave a comment