Latest news
quietearth
[Celluloid 10.05.09]
movie
news
short
scifi
comedy
UPDATED: We have verified via producer Nick Ryan this is indeed a short, it was shot in LA, and it's currently in post-production. We'll have more for you soon.
"Soon every house will have a robot helper. Don't worry, your kids are perfectly safe."
I love it! From Ruairi Robinson, the man behind the excellent post apocalyptic short
Silent City
which starred Cillian Murphy, is back with another film titled
Bad Robot
which is billed as being a comedic scifi. However, based on the poster, I'm wondering if this is a horror comedy, and between the IMDB entry and the other pages I've found on this, I can't tell whether it's a short film or a feature. Image Now Films, the Irish production company behind Silent City is also involved. I'm currently attempting to get in touch with the production folks behind this project, so hopefully we'll have more info available shortly.
Check out the concept teaser after the break. The animation is spot on.
You might also like
Anonymous (13 years ago) Reply

i would love to see this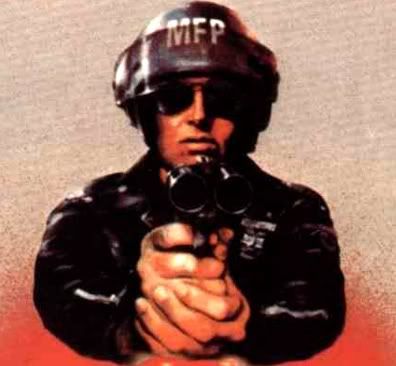 agentorange (13 years ago) Reply

Looks like an interesting consumer robot design, but because Silent City is one of the best shorts I've ever seen period, I'm immediately intrigued.

Anonymous (13 years ago) Reply

tht is gd. well done character design on the animation there. would hav just chosen a more cinematic background....as opposed to big white nothingness.

trogen (13 years ago) Reply

wish there was a feature length Silent City, i could watch films like that all day long!

JackCrow (13 years ago) Reply

From the ad:
[quote="ccn money"]
Production Designer
Logolite Entertainment
Los Angeles, CA Aug 09
Experienced PRODUCTION DESIGNER wanted for 5 day SAG Ultra-low Budget production. Written and directed by Academy Award nominated director, Ruairi Robinson, 'Bad Robot' is financed by the Irish Film Board and produced by Logolite Entertainment, Alturas Films and Image Now Films. Project is scheduled to begin shooting August 26
[/quote]

Nick Ryan IFTN page
[quote]
He is currently producing the Frameworks short film 'Bad Robot' for Ruairi Robinson
[/quote]

Anonymous (13 years ago) Reply

I want to see it cuz Max Records <3 <3 is in it

Leave a comment