Latest news
Marina Antunes
[Celluloid 11.13.09]
movie
news
[Editor's Note: Multiple Personality Disorder Reports are short news blasts meant to let you know about the stuff that didn't make it to the news page but still had us talking behind the scenes]
#1
"Acolytes" director Jon Hewitt prepping "X"
Jon Hewitt is preparing to shoot a follow up his teen serial killer film.
X
will take a trip into the underbelly of Australia's sex trade. Shooting is slated to start in early 2010.
#2
"Deadgirl" writer to step behind the camera for "Chop"
Deadgirl
caught a lot of heat for its controversial subject matter and now writer Trent Haaga is preparing to step behind the camera for
Chop
. The new project is being toted as a "revenge thriller with a comedic edge in the tradition of "Fargo" and "Oldboy"." The time may be ripe to finally catch up with
Deadgil
.
#3
"Submarine" adds great cast
Richard Ayoade's adaptation of Joe Dunthorne's coming of age story
Submarine
had previously cast Craig Roberts and Yasmin Paige but it's the addition of the great Paddy Considine and Sally Hawkins that has us excited. If the comparisons to Dunthorne's story to "The Catcher in the Rye" is any indication, we're in for a sharp and very funny film. [via
Variety
]
#4
Pang Ho-Cheung's Hong Kong slasher "Dream Home" sounds badass
The good folks at
Twitch
checked in after seeing some initial footage and the excitement is palpable. Check it out:
Extreme by any standards but wildly so for a picture coming out of Hong Kong, Dream Home weds Pang's trademark high gloss, arthouse tinged visuals to extreme gore, explicit sex - including female frontal nudity, a rarity in Hong Kong - massive amounts of blood and what is become a touch-point for 2009 horror: genital mutilation.
I'm not really sure I'm ready for more genital mutilation just yet but the rest of it sounds too good to pass up.
#5
"Babylon 5" creator sets eyes on the big screen
Not content to simply create a legion of adoring TV fans, J. Michael Straczynski is ready to tackle the film industry. Straczynski is teaming up with Jerry Bruckheimer for a theatrical adaptation of the post-nuclear civil war videogame titled "Shattered Union." I'm not familiar with the game but apparently it takes place
in a new American civil war as the United States falls apart following a nuclear attack on (and destruction of) Washington DC, with both Europe and Russia (which annexes Alaska, presumably to the upset of Sarah Palin) getting involved and bringing the world to the brink of a third world war
. Sounds totally badass! [via
io9
]
#6
Luke Rhinehart's "Dice Man" novels being adapted for the big screen
It had already been announced that Rhinehart's comedic novel about a psychiatrist who begins making life decisions based on the casting of dice (Mark Waters is directing the first instalment titled
The Dice Man
) was in development but it looks like the follow-up, "The Search for the Dice Man" is also in development. The second novel focuses on Larry Rhinehart (Luke's son), who is approached by the FBI to track down his estranged father's whereabouts.
#7
"Infernal Affairs" co-writer Felix Chong to direct "Once a Gangster"
Exciting news indeed but the truly exciting bit here is the story Chong is going to direct. According to
Twitch
, it's yet another take on the Hong Kong underwold. Here's the snippet that caught my attention:
Celebrity cook Brisket (Jordan Chan) is known for his culinary sleight of hand, but hardly anyone realizes he used to be a young and dangerous slayer who cut human flesh rather than poultry meat.
I expect the criminal underwold comes knocking and sets his entire new life off balance.
#8
Cinematographer Xavi Giménez set to direct "Tranquility Valley"
With a title like that, it's almost guaranteed this won't end well but regular Brad Anderson cinematographer Xavi Giménez is willing to take us there regardless. His directorial debut is touted as a ">thriller about a re-education centre, which promises to reintegrate difficult youths back into society, through very controversial methods." [via
24fps
]
#9
"Joshua" director sets sights on horror-musical
I'm still bummed that
Joshua
didn't get a little more attention (that film was much better than expected) but Travis Betz isn't wasting any time moving onto bigger better things. In a recent entry on his
website
, Betz announced that his next project is a horror-musical titled
The Dead Inside
and tells the story of lovers looking for inspiration through some grim situations (including possession). Sounds nifty – I'm always up for a musical…as long as the music is good!
#10
Jena Malone attached to post-apocalyptic thriller "Remnants"
Looks like Ms. Malone loves her horror, not that
Remnants
will be a horror film per-say but the story of a few survivors trapped in a rural Texas bomb shelter trying to survive through radiation sickness, hunger, and "marauding gangs of violent refugees infected with a strange and terrible nuclear illness" certainly sounds like it could feature some horrific aspects (along with some messed up mutations thanks to the radiation). [via
AITH
]
#11
Aliens to attack South London in "Attack the Block"
Actor, writer and director Joe Cornish is ready to tackle his big screen debut with a script he write and will direct titled
Attack the Block
. The story of a group of teens that have to defend their South London apartment block sounds like good fun and if his work with Edgar Wright (the two worked together on the Tintin script and the upcoming
Ant-Man
script) suggests a similar brand of dry comedy, we're in for a treat.
#12
Three join Rodrigo Gudiño's horror-western "Cut Throats Nine"
A remake of Joaquín Luis Romero Marchent's 1972 film about a sergeant who is entrusted to deliver a wagon-full of convicts while keeping his daughter safe, the new production has attached award winning Rodrigo Gudiño to direct and a trio that would make any girl salivate: Harvey Keitel, Mads Mikkelsen and Roy Dupuis. I hope to all things dark and dreary that we get to see a lot of Mikkelsen (preferably as a bad guy).
10 more great news blasts after the break!
#13
Dystopian New York comic "Chi-Chian" coming to the big screen
I obviously need to find a new way to stay on the comic book bandwagon because I'm not sure how I missed this. Created by artist/musician Voltaire, the story takes place in a dystopian New York which has turned into a district of Japan and features a heroine who fights samurais, robots and zombies. How did no one recommend I read this? Can't wait to see who gets tapped to direct this adaptation because this thing has huge potential written all over it. [via
THR
]
#14
Clive Barker short stories go the route of horror anime
It's good to see Clive Barker back in the centre of action. The writer/director is planning on turning some of his short stories, starting with "In the Hills, the Cities," into horror anime with the help of Japanese director Ryuhei Kitamura who recently directed Barkers
Midnight Meat Train
, a film I thoroughly enjoyed. I hope these ventures don't end up as direct to DVD deals but sadly, I don't foresee a theatrical release in the cards for this sort of film, at least not in the US. [via
Anime Nation
]
#15
Richard Kelly working on 3D thriller
The 3D bandwagon is still going full strength and as much as I may dislike it, there doesn't seem to be an end in sight and with Richard Kelly on board that band wagon, I'm not sure I want that end to come any time soon. The director of
The Box
(check out our
glowing review
) recently revealed that he's working on a thriller set in Manhatan in 2014, a film he wants to shoot in 3D complete with CGI motion capture.
I have my doubts about this idea but I'm willing to give Kelly room to explore his crazy stories. If it takes 3D and mocap to do it, so be it. [via
BD
]
#16
"Mutant Chronicles" director returns to war for his next feature
I was pretty disappointed with Simon Hunter's
The Mutant Chronicles
but his visuals were enough to mark the director as someone to watch and watch we will. According to
STYD
, Hunter's next project will be another war film.
Blood Reds
is set in 1920 Siberia during the Russian revolution and involves massive amounts of bloodshed awakening a vampire warlord!
#17
Max Barry's "Machine Man" headed for big screen
Or so Barry hopes. I've stopped biting my nails hoping to see "Jennifer Government" make it to the big screen (apparently the rights to that novel have now reverted back to the author) but Barry isn't walking away from Hollywood yet. His sci-fi serial "Machine Man," which tells the story of a techie who turns himself cyborg (apparently just for the hell of it) has been picked up for development though no one knows how it ends (including Barry himself). It's a good read (if you care to follow along, you can do so
here
), I just hope this newest Hollywood prospect ends better than the previous ones. [via
/Film
]
#18
David Fincher re-teams with "Seven" scribe for "The Reincarnation of Peter Proud"
I like the idea of Fincher re-teaming with Andrew Kevin Walker for this new adaptation of Max Ehrlich's novel (it was adapted once before by J. Lee Thompson) about a college professor who starts having dreams he later discovers to be memories of a past life, a life in which he was murdered. Honestly, this doesn't sound particularly awesome but Fincher has a way of making me love everything he does. One to keep an eye on. [via
HV
]
#19
Aliens to attack in Peter Berg's "Battleship"
I like Peter Berg but had little interest in his
Battleship
adaptation. At least I had no interest until
Latino Review
uncovered that the fleet of battleships would be fighting off aliens!
#20
Duncan Jones to direct "Source Code"
Moon
director Duncan Jones will be bringing Jake Gyllenhaal back to sci-fi in
Source Code
. Gyllenhaal will play a "US soldier who wakes up in the body of an unknown commuter and is forced to live and relive a train bombing until he can find the perpetrator". Sounds kind of bland but so on paper, so did
Moon
and we all saw how that turned out. [via
Screen Daily
]
#21
James Marsh to direct "The Vatican Tapes"
Red Riding: 1980
and
Man on Wire
director James Marsh is ready to enter genre filmmaking with
The Vatican Tapes
, a supernatural thriller about a series of events that unfold after a tape revealing an exorcism gone wrong is leaked. It's not a whole lot to go on but I'm hoping this will be more
Exorcist
and less
Exorcism of Emily Rose
. [via
THR
]
#22
Hideo Nakata helming new supernatural thriller
Not much to go on at the moment but
Ringu
director Hideo Nakata has signed on to direct
Voice from the Stone
an adaptation of an Italian novel of the same title about a "child psychologist who takes on the case of a young boy who made a promise to his dying mother to remain silent until her spirit returns". [via
THR
]
#23
Neil Burger's "Dark Fields" adds Bradley Cooper
We'd already
reported
that Shia LaBeouf was attached to star in Burger's "techno thriller" about a young man who comes into possession of the ultimate smart pill and now
THR
reports that Bradley Cooper has also signed onto the project. Seems like a bit of strange casting for the Hollywood heart throb; maybe it's a sign that he's ready to be more than just a pretty face.
#24
Lawrence Gough's eco PA thriller "The Drought" moving forward
We'd already brought you
details
on Lawrence Gough's thriller which tells the story of "ecological horror about a drought in the UK" and it looks like the project is moving along at a nice pace. News now is that casting announcements will be made in the new year with shooting scheduled to begin next summer. [via
Screen Daily
]
You might also like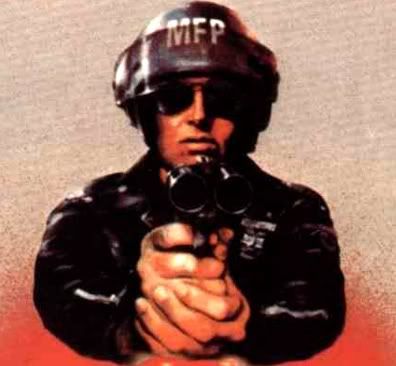 agentorange (12 years ago) Reply

"Cut Throats Nine" re-make? Hell yeah! not the best spaghetti western but definitely one of the bloodiest.

Anglebender (12 years ago) Reply

I thought "Shattered Union" would make a great movie, and there it is at #5 on your list!

Leave a comment