Latest news
Christopher Webster
[Celluloid 11.24.09]
movie
trailer
news
action
I'll admit that I'm pretty green when it comes to Indian cinema. All I know is that there's usually a lot of singing and women giggling behind covered faces. However what I do know is awesome. And this teaser for the upcoming Indian film,
Battle Field
(or Porkkalam in its native land), is just that.
The film is written and directed by twenty four year old writer / director, Bandi Saroj Kumar, who claims on the film's official website that the high-voltage action "is going to create a revolution in the history of Indian Cinema." And, while the trailer never actually gets around to showing us any of this revolutionary action, the shots of muddy warriors holding giant mallets, swords and maces do a good job at building up suspense.
About Porkkalam ("Battle Field"):
PORKKALAM is an adventurous action flick with a high voltage emotion running under current. The action sequences are choreographed by the director in a natural and exciting way, without including the regular irritating commercial fantasies. The ultimate intention is to present totally a fresh and unique concept to the audience.

PORKKALAM means "BATTLE FIELD." This is the battle of a single man against many. This is a battle for LOVE, a battle for REVENGE and a battle for DESTINY.
I'm curious to find out what the film's actual plot is, because it's it's hard to look beyond the very post-apocalyptic atmosphere and cinematography. Is this perhaps a hard-edged PA fantasy of some sort? Or just a military movie? we will try to dig up more.
Trailer (via:
Twitch
) after the break.
You might also like
anonymous (12 years ago) Reply

You're kidding me...right...it made me more laughing then anything else, looks like pure shit....honestly at one point I thought the guy will start singing and dancing, someone must put an end to India cinema. Please for the sake of universe, it is important. What the hell is going on with humans lately, do we raise idiots, every damn day.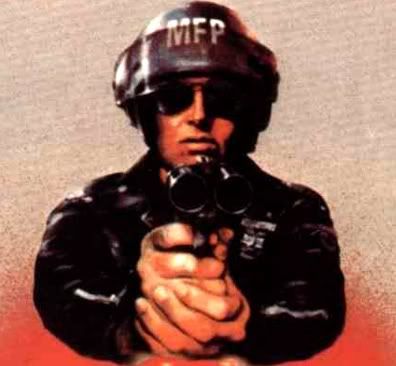 agentorange (12 years ago) Reply

Ah yes, but he DIDN'T start singing. Or dancing. Hence, 35% more awesome than most Indian movies.

donc48 (12 years ago) Reply

One thing you guys forgot is the love story all Indian films have singing, dancing, Hot Indian babes and a love story, they all have a love story. That said I really try and keep an open mind when see the trailers trooping though here. Who is this guy battling? Brain sucking Aliens? Zombies? Sexy Teen Vampires? My ex Girlfriend? (He would louse that one) The IRS? Oh and BTW where is the love story in this flick? Just curious. Keep up the Great work!

Anonymous (12 years ago) Reply

well they have to make their minds up..whoever produced this film. they got clear western influence/perspective with the english writing on the walls then his short english monologue. of course most people will expect another bollywood musical. tonally it was very different from most of those productions but yea i m not sure yt either if this is gonna be good or another piece of shitt bollywood wank.
also cut bk on some of the OTT sound effects. first half was well edited then it got annoying.

rek (12 years ago) Reply

The artistic direction looks alright, but I wonder if this movie can shake off all the Bollywood trappings and stand on its own. There may not be any singing and dancing, but will the love story be as forced and ridiculous and clichéed as any other Bollywood title? He's a bad boy, she's a headstrong independent woman, they just don't get along, until suddenly they do.

uncleB (12 years ago) Reply

the guy in the clip moonlights as a helpdesk operator for microsoft.

RIII (12 years ago) Reply

Didnt the guy who made "The cell" come out of India?

Pong (12 years ago) Reply

The trailer really gave us nothing. For all we know the movie may be people singing, dancing, and waving axes, and swords around :)

Leave a comment