Latest news
Marina Antunes
[Celluloid 01.12.10]
movie
review
comedy
crime
Year: 2009
Directors: Gary Yates
Writers: Gary Yates & Lee MacDougall
IMDB:
link
Trailer:
link
Review by: Marina Antunes
Rating: 8 out of 10
[Editors note: projectcyclops had a similar reaction to the film when he saw it at EIFF.]
With a title like
High Life
, it's doesn't take a genius, or even watching a trailer, to give you an idea what Canadian director Gary Yates' new film is all about. But just in case…
It's 1983. Bank machines are being introduced into the banking system and individuals are still carrying their pin numbers in their wallets. Dick is a reformed convict, a bad guy with a drug problem (morphine, it's legal and the "intelligent addict's" choice drug) who is trying to live life straight. His buddy Bug, gets out of jail, comes to see him and sends Dick's pathetic existence into a tailspin. Dick puts together a crew (which includes his buddy Donnie and the pretty faced Billy) and a plan which seems to be perfect. But really, we're talking about a group of drug addicts here. Chances this plan, however good it sounds, will work, are slim to nil.
Adapted from Lee MacDougall's play of the same name, this is a project that works mainly on the strength of the actors. The story is deceptively simple (even worn out in places) and setting it in the early 80s gives the production free reign to avoid some of the trappings of a modern heist, namely cell phones, 24 hour video surveillance and all of the other security measures that would make the plan fall flat before it even made its way out of concept mode. And thought that period setting certainly works to the advantage of the plot, it makes the film a little more difficult to capture. Luckily Yates has a crack team of an art department that nails every aspect of the 1980s. Where they managed to find those old ATM's is beyond me and I'm sure Winnipeg served up every "classic" car they could track down for the production.
As good as
High Life
looks and sounds (more on that in a moment), this is truly an actor's film and thankfully, it features a great cast that carries it off beautifully. TV regular (with a few recent film appearances in
Horsemen
(
review
) and
The Lookout
) Stephen Eric McIntyre sets the ball rolling as the-shoot-now-ask-questions-later trouble maker Bug, a man you know is bad news before you even see his face. Then there's Joe Anderson as the sickly Donnie, a guy who's always up for a job. Relative new comer Rossif Sutherland (yes, of
the
Sutherland tribe) shines as pretty faced Billy but it's Timothy Olyphant who really pulls the crew, and the film, together. Olyphant is a talented actor who has managed to appear in a string of mediocre films (though he did well with a minor role in David Twohy's
A Perfect Getaway
) but in
High Life
, Olyphant displays some of the old talent that shone so brightly in "Deadwood." The role here has him pegged as a bad guy but one can't help but be drawn to his energy and on-screen presence. I hope this is a turn of the page for the actor who is due to appear later this year in the much anticipated
The Crazies
.
Fans of the 80s will bathe in the awesome soundtrack which features tracks from three Dog Night and CCR and more than a little April Wine. It's an unexpected bonus to be humming along to a long forgotten track while enjoying a nicely paced heist flick.
Featuring more than a handful of laughs and a few non-sequiturs that only add to the film's wacky appeal,
High Life
is bundled up into a hugely entertaining package. It may not be high-art but it manages, very successfully, to achieve what it sets off to do: make us laugh. I'd love to see this team together for another round.
You might also like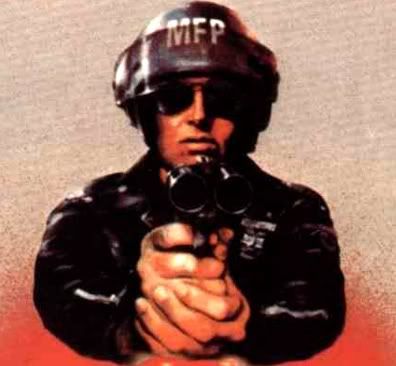 agentorange (10 years ago) Reply

I was offered advanced passes to "High Life" and "Creation" this week, but I can only make one screening. You just made my mind up for me with this review. Looking forward to it.

projectcyclops (10 years ago) Reply

Awesome review Marina, makes me want to see this again! Very entertaining movie, Olyphant on top form.

Leave a comment