Latest news
quietearth
[Celluloid 03.01.10]
post apocalyptic
news
short
animation
Back in January we
reported
on an intriguing PA short called
Connected
. All we had then was a cryptic teaser that showed us little, but we were hooked. Well, I'm happy to say the full short doesn't disappoint.
Connected comes from Danish filmmakers Jens Raunkjær Christensen and Jonas Drotner Mouritsen who classify it as a "sci-fi western."
Synopsis:
Set in the distant future, Connected is a story about survival and greed with a post apocalyptic wasteland as its backdrop. Survivors of an unknown disaster shuffle through a desolate landscape, as it quickly becomes clear that not everybody has the strength to survive.
Watch the full short
here
. Via our friends at
Opium
.
It's stunning, watch it.
You might also like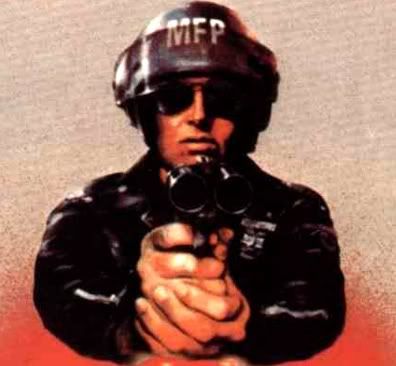 agentorange (12 years ago) Reply

Stunning indeed. I watched in fullscreen with headphones and it was pretty amazing.

donc48 (12 years ago) Reply

Sweet and i don't think I have used that word to discribe a movie in many a moon. The images where worth watching.

Nice find guys!

pat (12 years ago) Reply

yea its well made. and an interesting story of course but dont u think its oddly similar to DAY 26 (http://www.quietearth.us/articles/2009/12/25/Merry-Christmas-from-Michael-Bartlett-Andreas-Samlands-PA-short-DAY-26) ? this kind of very intimate relationship between two people, the whole emphasis on the mechanical breathing as a leitmotif etc?

anyway beautifully shot..just not too sure about the guitar soundtrack. a more industrial/electronic ambient soundtrack might have worked better?

JackCrow (12 years ago) Reply

Yep, good one.

uncleB (12 years ago) Reply

Cool as hell!!!

Anonymous (12 years ago) Reply

check out the another clip via opium
anyone else found other clips on opium site ?

http://opium.org.pl/2010/01/10/energy-hunter/

Leave a comment