Latest news
Christopher Webster
[Celluloid 03.23.10]
movie
news
poster
horror
action
fantasy
Bunker director Rob Green is currently in pre-production on a promising genre mash-up called Gladiators V Werewolves and the first poster for it has premiered. Sorry it's not bigger.
I don't really know what else I can say about the project, other than it appears its going to give us exactly what we expect.
Synopsis:
The Hunt. The Trap. The Games.

AD 160. The Romans occupy Britain, and the great Hadrian's Wall divides the land, built to keep back the northern warrior tribes, and something far more dangerous; a clan of savage wolf-like creatures which roam the lowlands.

Word reaches Governor Flavius that the Emperor has decreed that new, more fearsome beasts should be captured for the games. The ambitious Governor, having heard rumours of the fierce wolf-beasts beyond the great wall, senses an opportunity to win favour with the Emperor and even a place in the senate.

The heroic Centurian, Titus, is tasked with hunting and trapping the wolf-creatures. Titus and his legionaries track the beasts to their mountain lair and discover a warrior clan who transform at will into mighty, armour clad werewolves. In a fierce battle, the beasts slaughter half of the legionaries. Titus and his surviving men escape and ensnare the pursuing werewolves.

The Governor is delighted he has his prized new fighting savages, but Titus realizes that anyone bitten by a werewolf is cursed to become one of their kind. He warns the Governor that the werewolves pose a grave threat if they increase their numbers. Titus's reward for challenging the Governor is to be stripped of his rank and thrown into the arena where the beasts' savagery will be tested.

Excited spectators cram the amphitheatre. Titus and the land's best gladiators are pitted against the ferocious werewolves, but the beasts are powerful and smart. For every two fighters they slay, they leave one wounded and alive. Titus's fears are confirmed; the werewolves are building an army. The final day of the games will be a blood and thunder battle, more savage than any Roman has seen or experienced before.
More as it comes gang!
You might also like
lenny (13 years ago) Reply

Please be slightly watchable and I will be stoked. Sounds cool at least.

JackCrow (13 years ago) Reply

"Gladiators vs. Werewolves: actor confirmed

The writer, director and producer Paul Davis was called to play a werewolf in Gladiators vs. Werewolves: Edge Of Empire, the new film by Rob Green. But their responsibilities do not end with the use of a machine monster.

"I was introduced to be just one of the monsters," said Davis. "But recently I met with producers and they offered me the role of a leader of the werewolves and its human counterpart. Furthermore, I will work behind the camera as well, making the making of the film," said the actor to site Shock Till You Drop.

Production should start soon and filming is scheduled for early 2010.

Gladiators vs. Werewolves: Edge of Empire is a movie that features a fantastic setting, where a Roman governor sees the existence of werewolves the chance to win royal favor by putting these monsters against gladiators in the arena. But he does not know is that the werewolves are not just murderers, they are using this opportunity to increase its troops. The was written and directed by Rob Green and the production is Lee Brazier and Angad Paul.

http://hqmaniacs.uol.com.br/principal.asp?acao=noticias&cod_noticia=22312
"

Concept art:
http://www.creaturespot.com/main/2009/5/19/werewolf-and-stuff.html
http://werewolf-news.com/2009/05/gladiators-v-werewolves-concept-art-by-martin-rezard/
--
http://www.imdb.com/title/tt1448761/
--
"AV Pictures' slate will also include Gladiators v Werewolves: Edge of Empire
which was written and directed by Rob Green, and Dark Streets, directed by
Rachel Samuels.
The $15m ( later cut to $8m ) Gladiators v Werewolves: Edge of Empire, which starts shooting later this year, is the first movie in a trilogy. It pits gladiators against
werewolves as they fight to the death in an arena spurred on by spectators."
http://www.avpictures.co.uk/press/screen070509.pdf

"Title: GLADIATORS vs WEREWOLVES
Production: feature film
Status: development
Genre: historical action/horror pic set in Roman times
Location: UK
Date shoot starts: 2010
Director: Rob Green
Producer: Lee Brazier
Associate/line producer: Kate Dain k @ katedain.com
Production co: AV Pictures www.avpictures.co.uk
"

"Icon Film Distribution has acquired UK and Australasian rights to distribute the film, and other territories have either been sewn up as well, or are on the way (no word on North America yet). Production on Edge of Empires starts later this year, and will feature make-up & creature effects by Shaune Harrison."
http://werewolf-news.com/2009/06/gladiators-v-werewolves-to-be-a-trilogy/

Mike C. (13 years ago) Reply

If this movie is 1/10 as cool as the poster it it could be all time great cheese.

Anonymous (13 years ago) Reply

well at least its an original spin on the old gladiator movie. it cud be cool. however why is that lycan wearing amor? makes little sense to me.

rek (13 years ago) Reply

Please, QE, I beg you: Make the posters you use in articles links to larger copies!

nihatbingollu (13 years ago) Reply

çok teşekür ler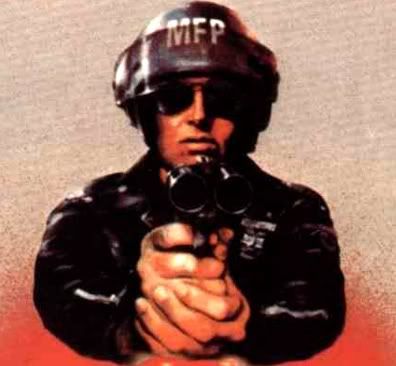 agentorange (13 years ago) Reply

@rek

Usually we would put a larger image in a gallery, but in this case there isn't a larger poster available anywhere. When one is I'll add it to the post.

xxxx (13 years ago) Reply

poster has been on av pictures' site for like yonks. old news

Anonymous (13 years ago) Reply

@xxxx

Yeah, old news that no one gave a shit about until it appeared here.

Anthonypilone01 (10 years ago) Reply

I am looking forward to this ans hope it'll be a great movie. it'll have actual old-school Lycan styled werewolves and none of those who just turn into ordinary wolves or none of that Twilight shit.

Leave a comment