Latest news
quietearth
[Celluloid 05.05.10]
zombies
movie
trailer
apocalyptic
news
We just got an email from a sales agent pointing us to this German zombie film which will be having it's world premier at the Cannes film market, and boy, does it look utterly incredible. Can you say German expressionism?
Just when Michael arrives in Berlin to visit his ex-girlfriend Gabi, a terrible virus starts spreading across the city at a rapid pace, turning people into mindless homicidal maniacs. Much to Michael's concern, Gabi's not home; instead, he meets Harper, a teenage plumber's apprentice at work in her apartment block. Together, they manage to barricade themselves when raging hordes of infected people swarm the building. Surrounded by these thirsty zombies, Michael and Harper have their hands full to survive - and it will take all of their ingenuity to make their way out to try and find Gabi.
Trailer after the break.
You might also like
GET TO DA CHOPPAAAAAA (11 years ago) Reply

I've always imagined what would happened if a person barricaded themselves in their apartment during a zombie breakout, rather than try to escape the city...very nice.

bad dog (11 years ago) Reply

Holy crap what a sweet trailer. If this is the future of zombie movie making, I'm all for it. Grainy, real, and focused on the human drama, not just the gore.

Kal Verd (11 years ago) Reply

If the write-up is to be believed then this isn't a Zombie movie at all, but an everyone goes crazy flick. The write-up says they become "mindless homicidal maniacs", that doesn't say Zombie. Zombies are reanimated corpses not just infected humans. The same thing happened when everyone talks about 28 Days Later and its sequel, they are not Zombie movies either.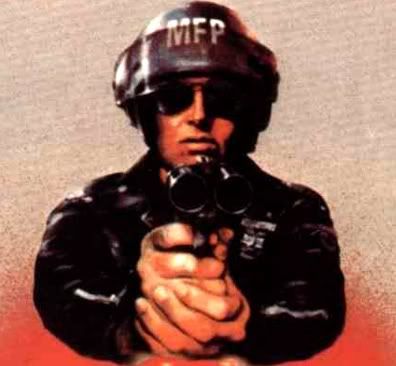 agentorange (11 years ago) Reply

Looks great and reminds me of the intensity of REC. Can't wait!

Jeff (11 years ago) Reply

Cool trailer...I'll be waiting for more.

Andy (11 years ago) Reply

Brilliant looking zombie movie! Reminds me of Mulberry Street, only German and better.

bad dog (11 years ago) Reply

Well actually Kal if we're going to be purists then dead people coming back to life to eat the living on their own volition aren't zombies either, as the term originally comes from Afro-Caribbean spiritual belief system of Voodoo, which tells of people being controlled as laborers by a powerful wizard. No offense but people who get purist about what a zombie is remind me of people who freak about the sanctity of the definition but apparently only the current definition.

Zombie has come to mean fast-moving dead people and slow-moving dead people. It also also come to mean people who catch rabies like diseases and become homicidal maniacs. This film qualifies as such along with other films such as Mulberry Street, REC and REC2, 28 Days and 28 Weeks Later, and The Crazies.

Andy (11 years ago) Reply

Well said, bad dog, well said. I also like the definition of a zombie as 'an individual behaving in a mindless manner', though that would make Jeresy Shore a zombie reality tv series.

loci (11 years ago) Reply

"Zombie" can also be applied to the malleable individual that is easily swayed from definition in order for a producer to use a word that sells tickets.

Foley (11 years ago) Reply

Shut the fuck up Karl.

Leave a comment