Latest news
Marina Antunes
[Film Festival 08.18.10]
post apocalyptic
movie
trailer
news
scifi
drama
Aside from Aronofsky's
Black Swan
(
trailer
), one of the other films premiering at TIFF that I'm pinning at the bit to see is Brad Anderson's
Vanishing on 7th Street
.
A PA styled thriller about a global blackout that causes huge chunks of the population to simply vanish,
Vanishing
sounded (and
looked
) like the kind of film we sometimes wait entire years to see. Now that a trailer for the film has appeared I'm still excited to see it but I'm also a little concerned.
Yes, even through the grain of this low quality trailer it's clear that Anderson's film looks fantastic but I'm worried about Hayden Christensen who has managed a couple of decent performances in his short career but who seems to be reaching a little too far as the lead here. I'm hopeful his performance isn't this bombastic throughout the entire film.
Trailer, via
STYD
, after the break.
You might also like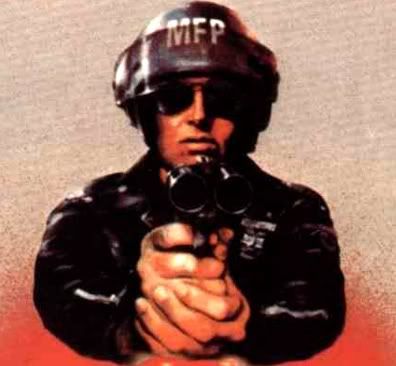 agentorange (12 years ago) Reply

This looks like a great 'last man on earth' flick.

I like the horror angle that seems to come out of nowhere, but I hope the hook is unique enough that it doesn't just end up being a cheap scare tactic. Based on the clip of Thandie looking at the baby pram, I'm guessing it's an alien psychology test of some kind. Guess we'll see.

zenseeker (12 years ago) Reply

How long can planes stay in flight without a pilot? Seems like the vanishing itself only happened minutes before he went outside.

thirino aware (12 years ago) Reply

I'm looking forward to this and all, but am I the only one who thinks that is some seriously cheesy CGI?

Lenny (12 years ago) Reply

Complete confidence in Mr Anderson. Can't wait!

uncleB (12 years ago) Reply

alittle Koontzie, reminds me of Taken and Phantoms. Im still waiting on John Leguizamo to reprise his role as Violater in a Spawn sequel.

Anonymous (12 years ago) Reply

Couldn't agree more, Hayden Christensen sucks as an actor. Must be a nice guy or something but he's painful to watch. I've never seen anything that I thought he was good in. Bummed Brad Anderson picked him. PS. I read this script about two years ago and the trailer looks true to the script.

wilcoy (12 years ago) Reply

Nice...I like the jetliner crash in the background. Let us know when it is released. Thanks for the heads up.

R.C. (12 years ago) Reply

At first I thought this was a movie about the Rapture. Lol.

Anonymous (12 years ago) Reply

An actionpacked Quiet Earth. Ohhhh please NO!

Matt (12 years ago) Reply

Looks like the comic "The Light" where light from the power grid kills people.

Leave a comment