Latest news
quietearth
[Celluloid 11.18.10]
movie
trailer
news
scifi
While I pestered the director of this for months as I've been following this for a year, he failed to mention that a trailer had dropped which I didn't notice due to my recent lack of time.. Thanks Panos!
Luckily it's everything I hoped for and more!
Set in the strange and oppressive emotional landscape of 1983, Beyond The Black Rainbow is a Reagan-era fever dream inspired by hazy childhood memories of midnight movies and Saturday morning cartoons.

Deep within the mysterious Arboria Institute, a disturbed and beautiful girl (Allan) is held captive by a doctor in search of inner peace. Her mind controlled by a sinister technology. Silently, she waits for her next session with deranged therapist Dr. Barry Nyle (Rogers). If she hopes to escape, she must journey through the darkest reaches of The Institute... but Nyle won't easily part with his most gifted and dangerous creation.
Trailer after the break.
You might also like
Skinstripper (5 years ago) Reply

I think you mean the strange and oppressive landscape of 2010 (fixed). I don't think we had such a fascistic environment then. Now is all about control, no personal freedoms, the government controlling your destiny. Get your eras straight, and leave your politics out.

By the by, this looks incredible. I'm sure it will play locally at the Laemle, and I'll catch it there!

Anonymous (5 years ago) Reply

@Skinstripper the description in bold italics is the description (usually)written by the creators of the film. Get your facts straight and leave your Reagan loving politics out of it.

mpomy (5 years ago) Reply

Good heavens! What an extraordinary taste of what looks to be amazing filmmaking. I would take it four the phat anaolgue soundtrack alone! Thanks for posting this.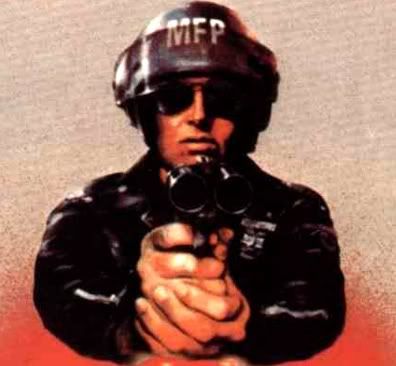 agentorange (5 years ago) Reply

This looks like a lost arhouse scifi flick form the 70s... by which I mean awesome. Must see this.

Skinstripper (5 years ago) Reply

@Anonymous I agree with you :) I should've clarified my remark so it was more obvious I was referring to the filmmakers. Anywho, I definitely will catch it in the theaters...and I love that you call me Reagan loving...lol. That's a compliment :)

brettlv5506 (5 years ago) Reply

Almost didnt watch the trailer because the poster is so bad. Glad I did, the movie looks great! The poster is horrible

Anonymous (5 years ago) Reply

No way man, that poster is an epic win. It's even got fake folds in it like it's vintage. I love that shit.

Lotus Eater (5 years ago) Reply

That guy kinda looked like Carl Sagan.

Anonymous (5 years ago) Reply

Wow!That was realy like something from the 70s-80s era ,i totaly agree agentorange.
Where do u found that?And how come i dont know this greek producer back home?

Leave a comment