Latest news
Christopher Webster
[Celluloid 01.27.11]
post apocalyptic
zombies
movie
trailer
horror
Just a few days ago we brought word that the good people at After Dark Originals were releasing a pretty sweet sounding post-apocalyptic zombie fest about a reality show where SWAT teams go up against the undead. Sort of like Night of the Living Running Men. Anyway, now we've got the very first look at the trailer for you... because, you know, we rock.
Synopsis:
It's been 5 years since the outbreak that wiped out 85% of the world's population, but the war between Re-Animates (Re-Ans) and Humans wages on. Most of the major cities are still uninhabitable. Within the few surviving cities, the Re-Ans have been segregated into "zones" and are policed by the R-Division of the QUASI S.W.A.T. Unit who hunt to re-kill the Re-Ans in the hope of quelling a second outbreak.

"R-Division, Frontline" is America's #1 TV show in this Post-Apocalyptic world. Weekly, the show follows different R-Division units on the battlefield as they work to keep America Safe and Re-An free. Jimmy, the videographer for the Outbreak Network, thought this week's episode would be like every other. He was wrong. Through the lens of his eyes and camera, we see raw, revealed and uncut, that which could be mankind's last day.

The footage you are about to see is graphic and disturbing and may not be suitable for children. Viewer discretion is highly advised.
Re-Kill stars Roger Cross, Scott Adkins, Daniella Alonso, Jesse Garcia and Bruce Payne. The director is Valeri Milev. Re-Kill is his first feature.
Check out the trailer for Re-Kill after the break and remember you saw it here first folks!
You might also like
Anonymous (11 years ago) Reply

Yes, yes, and yes... sign me up!

FDRsays (11 years ago) Reply

Meh, looks more like an action flick then anything else. How I long for zed flicks to be like Dawn of the Dead again..

geoduck (11 years ago) Reply

85% of the population wiped out, and they still have the resources to mount reality shows..

soma (11 years ago) Reply

I like the sound of it. A bit of a different spin on things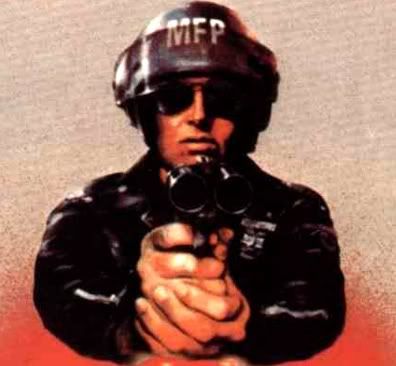 agentorange (11 years ago) Reply

There's some "Aliens" going on in there too. I think this looks great.

Aladdin Sarsippius (11 years ago) Reply

Don't like the part where they duplicate failed plotlines of where romero went wrong "they're gettin smarter".
The "man up pussy" was funny tho :>

Leave a comment