Latest news
Hal MacDermot
[Film Festival 02.23.11]
post apocalyptic
zombies
horror
December 2010 - Hal MacDermot
The depths of December and a frozen wood in the heart of the English countryside; acrid smoke drifts through the bare treesâ?¦ could you dream of a better place to watch a running battle between a small band of military survivors and a horde of blood thirsty zombies?
The
original Zombie Diaries
was shot in a video diary style and told the interweaving stories of three groups of people in the immediate aftermath of a zombie virus apocalypse. Itâ??s a great movie and was shot for zero budget. This time, with the help of producer Rob Weston (and those Weinstein chaps) there is more money and there are more zombies.
The film makers, however, have stayed true to their original guerrilla spirit, witness the fact that they recruited their zombie extras via Facebook, and also through an open casting call broadcast on local BBC TV news. 400 people applied and about 150 got the role.
At the kind invitation of co-directors/writers of the Zombie Diaries (2006) I was invited to zombie winter wonderland, in other words, for an on-set visit to the sequel, "World of the Dead." So there I was in a Surrey wood on a Sunday morning.
As I made my way over leaves and brambles towards a group of make-up artists who were applying the finishing touches to zombies, I realized that the atmospheric wood smoke was the result of three people lugging big cans of burning leaves and branches around, and a part of the special effects. In the mid-distance, dozens and dozens of torn and bloody zombies took up their positions. Just then, Rob Weston came up and shook my hand. Although very busy, he was kind enough to give me an interview right off the bat, and even though the crew was in mid set-up, introduced me to Michael, Kevin, the Editor Drew Cullingham and many other cast members.
Kevin Gates, writer / co-director / Cinematographer
Hal: Can you reveal anything about the World of the Dead story? (Fans are dying to know about this one of course)
With the story, I wanted something that would work as a direct sequel but also work as a stand alone film. So we kept some elements from the first film and linked in with the original ending and the soldiers finding Leeann.
Of course, with the memorable Goke surviving the first film, we had to bring his character back in as well. The script follows this platoon as their base is wiped out by the walking dead and they're forced to try and make it to the coast on foot and to try and escape the UK, as it's well and truly fucked now!
Leeann is taken with the soldiers on their journey and we witness her transformation to an unlikely strong female, albeit with somewhat psychopathic tendencies. So rather than telling several stories, as with the first film, we have focused on one narrative thread, adding a lot more suspense, action and most importantly, zombies.
The official synopsis reads as follows:
"Three months have passed since a viral outbreak wiped out 99.9% of the world's population, turning its victims into flesh-eating walking dead. In the United Kingdom, a surviving band of soldiers and civilians have taken refuge at a rural military barracks.

Life in this new world is tough and brutal, but hope appears when a high level communication is received from a military base on the coast, telling of sanctuary elsewhere in Europe. Just as salvation appears to be in reach, the base suffers an overwhelming defeat at the hands of the living dead. The survivors must now make their way to the coast to uncover the truth behind the message. Their perilous journey takes them across a now treacherous, death-ravaged landscape, where the walking dead are vast in number and roaming bandits impose their own malicious sense of law and order.

What follows is a journey into hell to reach the coast and a desperate battle against all odds for the very survival of the human race."
Hal: Is World of the Dead being shot in the same style as the Zombie Diaries?
The film is shot from a first person perspective as with the first film. This time round though, we were shooting on one of the new Canon DSLRs that shoots in full high definition, so it looks beautiful, but importantly retains the raw-ness of the first film with the handheld shooting style.
I heard a rumour that World will be darker, more bloody...is that right?
We absolutely pushed it over the line this time in terms of the darkness. We also kept the important premise of the first film, that there are far darker things out there in this new world than the zombies.
The budget for World of the Dead is much bigger than for Diary. How has that been as a shooting experience?
What Mike and I loved about the first film was our sense of freedom to explore and improvise as much as possible, albeit with limited financial means. The sequel has a higher budget and as such is much more regimented, so it's a different experience in that respect. There's more pressure on everyone and that's a good challenge. But like the first film, it's still a zombie movie, shot in a documentary style, so we feel at home. The higher budget just means we're surrounded by more people in better locations with better equipment.
Rob Weston, producer
What can you tell us about the plans for release and distribution?
The film will be released by the Weinstein Company in the US, Metrodome in the UK and our sales agent Imagination Worldwide have already begun selling the film to the rest of the world.
Hal: How did you find this awesome location?
I actually shot here in Frensham before, I did a film called Gnaw here, at a farm close by. Whatâ??s really worked for us is the weather, the snow, itâ??s given us an edge. Itâ??s difficult, but it gave us a great siege mentality. In fact, Children of Men was shot just close by here.
Hal: How many shooting days do you have?
Rob: 28 days.
Hal: How appropriate.
Rob, Yeah (laughs) but it wasnâ??t picked for any reason specifically.
What are the other projects are you are working on at the moment?
I'm currently working on 'The Paranormal Diaries: Clophill', which is in post production. I'm also writing a book on the legend of Clophill, which is coming out later this year, as well as penning two new screenplays - both horror.
Rob is pulled away by the First A.D.
Michael Bartlett, Co-Director
Hal: So, I hear you're shooting in the same style as the first one.
Yes - it's Cinema Verite again, however shot with much better cameras and professional actors. The end sequence is shot like a conventional movie and sets us up for the third film...
Hal: So there will be a third film?
I think, as with the second film, distributors will throw money at us to do a third film, due to the success of the brand. A lot of people will be very surprised when they see World of the Dead and how good it looks. It's amazing what you can do when you have a budget (Unlike the first film!).
I am trying to convince Kev to go down the whole Hazmat route with the third film - a bit like
Tag 26, my favourite short film
- and I'll be knocking up a few different treatments to show the financiers and other interested parties. Of course Kev and I might have our hands full with Timeless by then, so let's see what happens.
Hal: What are you shooting on?
A Canon 7D and a Sony HDV camera for night vision. Kev is doing all of the camerawork this time around.
Hal: Itâ??s a much bigger production this time.
Yeah, the first time we didnâ??t even have a first AD, or a production designer - it was just two guys making a film for fun on the weekends. This is totally different. It was weird to have whole departments working for us. It feels great, itâ??s really good. All our crew are really awesome.
Hal: Whatâ??s it like working in the freezing cold?
You wrap up warm! Thermals and a hat. The snow worked out beautifully for the continuity, because it starts to snow early on in the story, and then we got blizzard conditionsâ?¦
Mike is interrupted by an urgent on his walkie-talkie (before I get to ask about
Timeless
!)
Drew Cullingham (Editor)
we had minus 10 for our shoot. It was just down the road from here.
Hal: Which film was that?
Umbrage (written and directed by Drew). Quiet Earth
covered the film
.
Hal: Any news on the release for Umbrage?
The U.S. is sold, but the U.K.â??s being a bit slow still. Thereâ??s a culture now where distributors arenâ??t prepared to pay advances on films, there not prepared to take a gamble, because of the state of the economy. So the remit of films gets narrower and narrower. Iâ??d like to give the public more credit than just watching gangster movies.
Hal: What are the main editing challenges on World of the Dead?
Weâ??re editing on Final Cut Pro. Iâ??m doing some of the edit as I go along, which A. saves time and B. is a good system of checks, and with the snow, on the continuity. I donâ??t think itâ??s going to take all that long. The beauty of this film is there arenâ??t multiple angles, there arenâ??t multiple set-ups, so the editing style is very different. Itâ??s not a matter of cutting from a Wide, to a Reverse, to a Close, but what there will be are lots of hidden cuts.
Todayâ??s shot will hopefully look like a single take, so when the camera passes behind something so itâ??s all blocked off, thatâ??s an opportunity for a hidden cut, so hopefully it will look continuous. The biggest challenge is getting the pace and the drama acrossâ?¦because of the nature of it, as real. Normally as an editor you control how the audience responds, by saying â??now itâ??s time for a big dramatic close-up,â? but here we canâ??t do that as itâ??s all POV from one of the characters. The best way to enhance that is through sound, quite subliminal sounds that you donâ??t really notice, but feed on emotions.
Kevin Gates is now standing right next to me shouldering the Canon. Heâ??s waiting for a group of military types to take up position.
Kevin Gates, Writer, Co-Director, Cinematographer.
(Producer Rob Weston, left)
Hal: Youâ??re writer, co-director and cameraman. How is that
Itâ??s fine. There are two directors, so that works well. Thereâ??s more work with the camera this time though, because weâ??re using a higher tech camera. In the first one we could use auto focus on the DV cam.
Hal: Any other challenges camera wise?
Well itâ??s all about working with different lights, so now you can see like today, how long the shadows. The snowâ??s been awesome, it really added to thingsâ?¦ and because weâ??re using better cameras and lenses, we can get more depth, which makes my job a lot harderâ?¦plus itâ??s HD too, so when it comes out on Blu-ray it will look really stunning.
Hal: Tell me about the SFX.
At RAF Bentwaters, we had these gas powered weapons in for 2 days, so we had the SA80, which is the main weapon that Maddox and Carter have got, which have muzzle flash, and the extras responded really well to that.
Hal: How about the zombies and the gore?
Lots of entrails, lots of blood. Feasting. Cavities being ripped open. There are some very nasty scenes in this film. Weâ??ve got a lot of dark stuffâ?¦thereâ??s a group of banditsâ?¦Rob pitched the film the other day as Deliverance meets Dawn of the Dead, which I wouldnâ??t do myself, but there are elements. Itâ??s a film about soldiers too, so you could say it was Platoon meets Deliverance.
Drew: Meets Day of the Deadâ?¦
Hal: So itâ??s darker than the first one?
Yes, it is. This one takes things a stage further, which I think we had to do. To really show the dark side of humanity some four months after the outbreak. The first one was at the time of the outbreak and about a month later. This one is a few months later and thereâ??s only just these pockets of survivors left, and you know, the nasty people would survive in this world, apart from maybe military people, you know people whoâ??ve got survival instincts and know what to do to stay alive.
Hal: More zombies?
Yeah absolutely. We had about 50 at Bentwaters and 50 the other night, and today you can see how many. More zombies. But for me, Iâ??m an old school zombie fan, none of these sprinting zombies for me.
Hal: What else are you working on?
We shot a documentary called The Paranormal Diaries: Clophill. Itâ??s a ruined church in Bedfordshire thatâ??s got a history of Satanism and paranormal activity. We shot in July last year. Itâ??s a new thing, where we investigate a real legend, and we investigate as ourselves. Itâ??s got a real Zombie Diaries vibe to it, and we also interviewed people who are into Satanism and know about all the things that happened there in the 1960s and 1970s. Itâ??s renowned locally, thereâ??s a strange vibe, Iâ??ve known about it for years. Itâ??s a feature length documentary and a proper investigation.
Michael Bartlett steps up and tells Kevin everythingâ??s good to goâ?¦the shooting commences as a small group in military fatigues charge through the woodâ?¦ I canâ??t tell you more, because that would spoil the fun.
You might also like
Hot Fuzz (12 years ago) Reply

Those stills look sick! When's it done?

projectcyclops (12 years ago) Reply

Great work man, a really interesting read! Can't wait to see this!

Anonymous (12 years ago) Reply

Guys with cameras and funny hats holding microphones look dangerous indeed.

Croydon Exorcism (12 years ago) Reply

V interesting read. Great success story for the directors that they made a good first film themselves and on the back of that success got funding to do a bigger sequel. Gives us aspiring movie directors hope.

Hal (12 years ago) Reply

@Hot Fuzz, I reckon it's in post production now, I guess summer if we're lucky...

Grand Bergini (12 years ago) Reply

I really like that second still. It has an old-school feel about it.

Jarris (12 years ago) Reply

This is the way to make films. The industry (due to the economy) has become so fragile now, you need a good concept and to make either horror or thriller genre films. Get a private investor or get distributors behind you. Just my opinion. Good luck.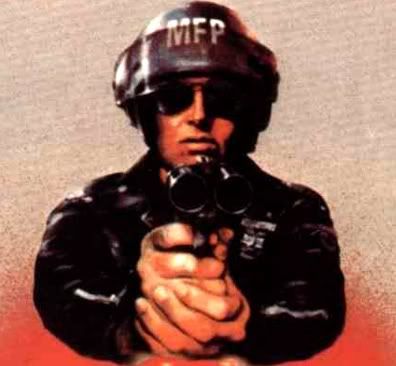 agentorange (12 years ago) Reply

Well said Jarris It's tough out there. Lots of great projects sit in dev hell due to these fears I suspect.

But with more avenues than ever beforeto get your film in front of people (DVD, Bluray, VOD, iTunes, limited Theatrical, Netflix, cable...) you'd think it would be a little easier to recoup costs.

anonymous (12 years ago) Reply

comes out June US, July UK (CINEMA)!

Anonymous (12 years ago) Reply

Dude, this looks sick. Are you nuts?

Leave a comment