Latest news
Christopher Webster
[Celluloid 03.02.11]
post apocalyptic
movie
trailer
short
scifi
dystopic
Got some nice Wednesday morning robots in the apocalypse footage for you (you're welcome). The first teaser for a mysterious project comes from David Levy who has done design work on games like Assassin's Creed and Tron Legacy.
But what's it for? Based on the film's
official website
there are more segments to come. Is Plug a short film that will play in episodes? Is it the beginning of a multi media project that will culminate in a new video game? Is this a bid to catch the interest of the studios to get a feature off the ground? Either way, it's got our attention.
Synopsis:
Leila, a spunky twenty year old on a quest for other life forms, finds her survival in jeopardy when she succeeds...
Thanks to
io9
for the scoop.
UPDATE:
Thanks to the ever watchful Avery Mining Corp. we now have info on what exactly the Plug project is. Apparently it's a short film produced by Steambot studios that will be sold as a book DVD package. It will include a beautiful 48 pages making of art book, and a DVD with the short film lasting 15 minutes and also more than 45 minutes of making -of and behind the scene. Written by David Levy and Hatem Benabdallah, directed by David Levy.
First teaser for Plug after the jump.
Plug - teaser one from vyle-art on Vimeo.
You might also like
Anonymous (11 years ago) Reply

looks sick!

Anonymous (11 years ago) Reply

nice production

trogen (11 years ago) Reply

how come there was never a tron review?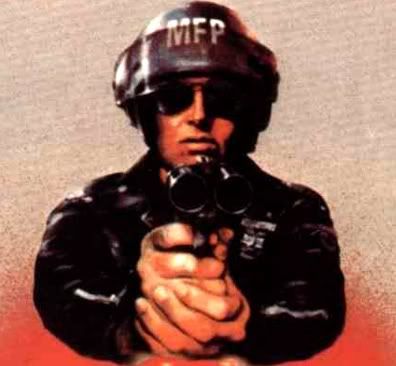 agentorange (11 years ago) Reply

I ended up seeing the film so late in the game that I thought there was no point in posting a review. The short version is it could have been better.

arnold3k (11 years ago) Reply

WOuld've looked better if the vehicles were also futuristic. I mean there are advanced robots and weapons, then a sand buggy?? Kind of throws off the sci-fi look.

Anonymous (11 years ago) Reply

arnold3k
they have advance robots now and sand buggies.

street (11 years ago) Reply

robot beach party wooooooo!

Anonymous (11 years ago) Reply

Looks like it could be the result of Clu's attempts to escape from the grid.

Maybe Tron 3.5, or a Tron universe b-side?

Turring (11 years ago) Reply

Why can't a post apocalyptic setting have varying levels of technology?

I see no problem with the sand buggy.

This "Plug" short feels like Mad Max meets Daft Punk.

Turring (11 years ago) Reply

Looks like teaser 2 for this went up on their kick starter site.

http://www.kickstarter.com/projects/1068245015/plug-stunt-vfx-fundraiser?ref=live

Leave a comment