Latest news
quietearth
[Celluloid 03.20.11]
short
scifi
horror
For those who've seen Ruairi Robinson's awesome post apocalyptic short
Silent City
you're in for a little treat.. he just dropped me a line to let me know his latest short,
BlinkyTM
which we reported on all the way back in
2009
, is now online in its entirety.
Ruairi is also currently working on a scifi feature called
The Animators
which
tells the story of a group of astronaut explorers who succumb one by one to a mysterious and terrifying force.
Finally, a feature!
After ze break!
You might also like
John (6 years ago) Reply

Be careful what you wish for, you jut might get it.

This short movie is how you spell: awesome.

Matt Simpson (6 years ago) Reply

holy shit. that was amazing.

Anonymous (6 years ago) Reply

Holy crap what an amazing short! Reminiscent of Spielgerg in a lot of ways... except with balls. What AI chould have been.

Anonymous (6 years ago) Reply

Wow. The kid was messed up. But Blinky was scary.

Best short i've seen... as long as I can remember.

Tensen01 (6 years ago) Reply

Never trust Robots!!
http://www.youtube.com/watch?v=tb2Pzl1U0sY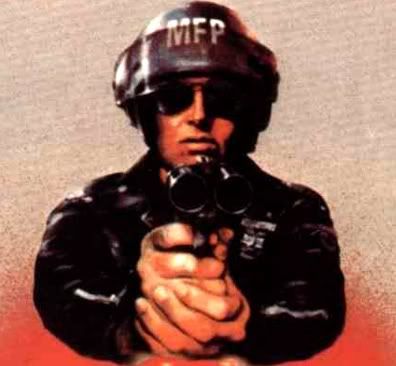 agentorange (6 years ago) Reply

Utterly and completely fantastic.

toro (6 years ago) Reply

nice

Torque2100 (6 years ago) Reply

This is an excellent short. Not only as a dire prophecy about the consequences of mistreating your creations, but also as a wonderful allegory for the decay of the nuclear family in the western world.

Throughout this film, the character I have to say I felt to most sympathy for was Blinky. He's a wide-eyed innocent who desperately wants to be loved an accepted, only to be tormented by psychotic humans until he finally snaps. I think we've all been in that position at one time or another in our lives.

tl;dr Great short

wtf (6 years ago) Reply

ummm...yeah...whatever...

Anonymous (6 years ago) Reply

Damn good stufffffffffffffff

Mark (6 years ago) Reply

Love the premise, fantastic production values, but ultimately feels a little too simplistic, too contrived.

I don't know, maybe I'm expecting too much of a short, or RR, but:

[SPOILER]

Having the big reveal spouted through a couple of lines, instead of using a visual storytelling device to convey it left me disappointed.

Anonymous (6 years ago) Reply

fantastic film!

bobaGDFett (6 years ago) Reply

What's the GD password!

Anonymous (5 years ago) Reply

what's the password???

Leave a comment