Latest news
Christopher Webster
[Celluloid 08.24.11]
post apocalyptic
movie
trailer
news
video
The English subbed trailer for German post-apocalyptic thriller,
Hell
, has finally arrived! Behold the understanding of plot!
Synopsis:
It was once the source of life, light and warmth. But now the sun has turned the entire world into a baked and barren wasteland. Forests are scorched. Animal carcasses line the roads. Even the nights are dazzlingly bright.

Maria, her little sister Leonie and Phillip are heading for the mountains in a car with tinted glass. Rumor has it water can still be found there. It is a hazardous trip to nowhere. Along the way, they run into Tom. He turns out to be a first-rate mechanic and becomes indispensible. But can they trust him? The tension grows. As if things weren't bad enough, they are lured into an ambush and their real battle for survival begins…
Check it out below.
Hell is premiering at Fantasy Filmfest in Germnay and is due out in theatres this September, 2011.
You might also like
Lenny (8 years ago) Reply

Sounds like my home state of Texas to me. Reading that plot descrip makes me think of every day we've had here lately. Totally possible story I guess. The apocalypse is gonna suck...

Anonymous (8 years ago) Reply

the subtitles aren't ideal. at the end, the old woman says "i wont hurt you" (and then adds) "on the contrary...". thus implying the people being kidnapped might not have such a "horrible" fate after all.

anyway. the trailer doesn't work for me, still. what is the threat here apart from the glaring sun? who exactly is/are the protagonist(s)? why should we care?

Keith (8 years ago) Reply

This doesnt have subtitles but it still looks awesome!

hell (8 years ago) Reply

official website of "HELL":

http://hell-derfilm.de/ (German)

and Facebook page with more pics:
http://www.facebook.com/HELL.der.Film

Anonymous (8 years ago) Reply

I had to watch it on the YouTube site so that I could click on the CC (Closed Caption) icon in order to see the subtitles

filmbeef (8 years ago) Reply

It's called "Germany" though, not "Germnay" and Hell premiered at the Filmfest Munich back in June. But I should stop nagging because I love your site. ;)

cptCrash (8 years ago) Reply

Hello folks, I've seen the movie at a sneak preview on monday. The movie is neither good nor bad, but okay. The pictures are really interesting. The idea also. Only the implementation .... you do not know who is the protagonist at the beginning and what goals he has. That makes the entry very difficult. A truly apocalyptic atmosphere comes only through the settings.

Riedl (8 years ago) Reply

in german language "hell" means: "light", "bright"
in english is "hell" a very warm place, we call it in german "Hölle"
first movie i know with a german & english titel :-)

Rook (8 years ago) Reply

Couldn't we, just once!, have a snowy, nuclear winter type of apocalypse? Just once?!? I think that would be far more interesting to watch than yet another film where the end of the world looks strangely like Arizona. Yawn.

Klaus Hummersumpf (8 years ago) Reply

They should have named the film "Brown" (or "Braun").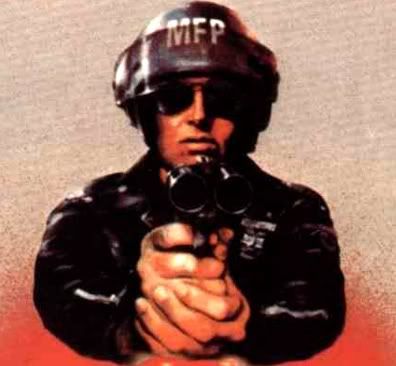 agentorange (8 years ago) Reply

I don't know what to tell you guys. I just watched it right here and the subs work fine.

Leave a comment