Latest news
Marina Antunes
[Film Festival 12.08.11]
review
thriller
drama
Year: 2011
Director: Julian Gilbey
Writers: Julian Gilbey, Will Gilbey
IMDB:
link
Trailer:
link
Review by: Marina Antunes
Rating: 8 out of 10
As it opens, there's a sense that Julian Gilbey's
A Lonely Place to Die
is a wilderness horror story, one where a woman and her mountain climbing friends encounter disaster on a mountain face and must fight the elements and terrain in order to survive; but if you've seen the trailer for Gilbey's film, you also know that this isn't really the case. The key here is to not watch the trailer and simply go in blind to fully appreciate what Gilbey and his writing partner and brother Will have developed because it's much more interesting than anything I could have expected.
For its first twenty minutes,
A Lonely Place to Die
introduces us to Alison (Melissa George who will soon appear in TV's "Bag of Bones" (
preview
)), Rob (Alec Newman) and their group of friends vacationing in the Scottish Highlands and training to climb one of the large mountains nearby. While on their first hike, Ed, the group's youngest and less experienced climber, hears a voice resonating through the forest. The group searches the area and discover a breathing pipe sticking out of the ground and after a bit of digging, uncover a wooden box with a young girl inside.
This is only the first of countless twists peppered throughout Gilbey's film which quickly morphs from a tale of people versus the elements into a rescue story before taking yet another left turn. The story doesn't simply move along at breakneck speed, it does so fluidly. The Gilbey's script is a thing of beauty, not only cleverly developing the story to cover some unexpected territory but doing so while developing well rounded characters that may or may not last through the film's running time. This is a tale of survival the likes of which you've never seen and though it borrows from various genres and stories, I've never seen them all mixed together in one film and certainly not this effectively. There are a number of characters and plot lines that make up this tale and the Gilbey's manage to marry them all into a cohesive story that jumps around from plot to plot without losing sight of the main thrust of the story, all the while keeping the audience onboard for the ride.
A Lonely Place to Die
opens with mountain porn – the film was a big hit with the ski and snowboard crowd of Whistler who wooed and awed at many of the opening scenes – and some amazing camera work which puts the audience on the side of the mountain. Regular Gilbey cinematographer Ali Asad beautifully captures not only the terror of hanging by a rope on the side of the mountain, but also the breathtaking beauty and feeling of adventure. As the film progresses and the story changes, Asad manages to create an air of claustrophobia and entrapment even though the characters are out in the open. It's an impressive feat and one that adds a great layer of terror to the film.
Great storytelling and visuals are enhanced by a talented cast, particularly George who finds a great balance between terror and fearlessness.
I loved the twists and turns of this story and am impressed by Gilbey's ability to keep me guessing with each new development in the story.
A Lonely Place to Die
is an unexpected and highly enjoyable thriller.
You might also like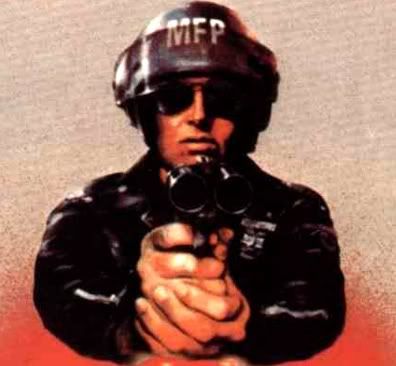 agentorange (10 years ago) Reply

I love shit like this. Can't wait to check it out.

Leave a comment