Latest news
quietearth
[Celluloid 12.20.07]
post apocalyptic
movie
news
Folks, you're in for a serious treat in the new year, and it comes in the form of David Bruckners "The Signal". While a low budget film, it looks anything but and has a storyline that will just knock your socks off. It's told in three parts after the world is flooded with a mysterious "signal" emanating from all electronic devices. This "signal" causes everyone to go crazy, attacking people at rando hence the tagline: "Do you have the crazy?".
Originally scheduled for release earlier this year, Magnolia wisely chose to push it back for extra press in hopes of a wider theatrical release. Just to let you guys know, I've had a copy of this for like 3 or 4 months now and it is incredible, I'll be putting up a review in February shortly before the release on 2/22. On a side note, Blood Car director Alex Orr was a UPM on this.
"It's New Year's Eve in the city of Terminus and chaos is this year's resolution. All forms of communication have been jammed by an enigmatic transmission that preys on fear and desire driving everyone in the city to murder and madness. In a place once marked by conformity but now sent into complete anarchy, the rebellious Ben must save the woman he loves from the bedlam in the streets as well as her crazed sadistic husband. But the only way he can tell who to trust or who has given in to violence is by uncovering the true nature of The Signal.
Told in three parts from three unique perspectives by three visionary directors, The Signal was originally conceived as an experimental film project called Exquisite Corpse where one filmmaker would begin a story then hand it off to another filmmaker to continue and then to another and so on until the movie was complete. The story eventually took shape and evolved into a scifi/ horror/thriller that imagines a world where everyday anxieties become the catalyst for inhuman terror. The Signal is a horrific journey towards discovering that the most brutal monster might actually be within all of us."
Full poster at IGN
You might also like
Anonymous (11 years ago) Reply

If this interests you then read Stephen King's Cell which is basically the same story

Kegslayer (10 years ago) Reply

I remember seeing this trailer ages ago but can't recall if it was in a theatre or on dvd. Been waiting for it anxiously too. Where did you get a copy from?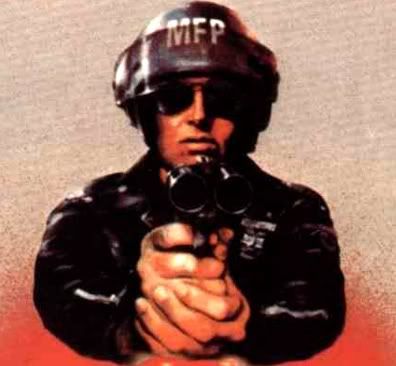 agentorange (10 years ago) Reply

It's available on DVD. You can pick it up pretty much anywhere. Highly recommended.

Korum (10 years ago) Reply

IF this interests you then go back to the Original and New Twilight Zone series which did episodes on a man who comes to a small town discovering that everyone in the town has been subjected to "The Secret" but him and in the end he is told and also goes insane. That is where Mr King and this movie's producers discovered the idea. It was changed for the upgrade in technology.

Leave a comment