Latest news
Christopher Webster
[Celluloid 03.19.08]
post apocalyptic
movie
apocalyptic
news
It's been well documented that 1982 was the single greatest year in genre film history but did you know that it was also a seminal time for post apocalyptic cinema as well? Yup, while ET was busy raking in the box-office bucks and Blade Runner, Tron, Conan, and The Dark Crystal were redefining film's visual appeal, a less obvious movement was also underway. Inspired by eighties nihilism, punk rock music, and the insanity of George Miller's Mad Max universe, a whole slew of domestic and international properties were hitting the large and small screen to little fan fare, only to get lost over time, historically outweighed by the giants of the day. But, thanks to the miracle of home video and the advent of DVD, we can relive all the good, the bad, and the ugly moments of the genre's most inglorious year. Lots of goodies after the break!
The Road Warrior
(or Mad Max 2 depending on where you come from) is an obvious choice for best of the bunch. George Miller kicked this second part into apocalyptic overload, turning Max into a man with no name with nothing to live for but the never ending quest for gasoline. Its from here that the recent Doomsday got its fetishistic dress code and love of high speed highway hellery.
Watch the trailer
1990: The Bronx Warriors
is probably one of the more popular PA flicks to come out of Italy following the European popularity of John Carpenter's Escape from New York. Directed by Italian PA mainstay, Enzo G. Castellari and starring American television icon Vic Morrow, Bronx Warriors is about a policeman who infiltrates the Bronx, which has become a battleground for several murderous street gangs. Imagine EFNY meets The Warriors.
Watch the film's awesome opening credit sequence
Ah
Megaforce
, how cool you should have been. Barry Bostwick stars as Ace Hunter, the spandex wearing leader of Megaforce, an elite group of American soldiers who travel the world to fight Evil. Yes, that's Evil with a capital "e." Not so much classic PA as a fun and futurized version of the vehicle happy world of The Road Warrior with added laser action for all the kids who were still pinning for more scifi ala Star Wars. A camp classic still waiting to find new life on DVD.
Watch Megaforce kick some army butt
Orgiastic werewolves, psychic communists, and evil Norks are only a few of the obstacles that stand in the way of She as she helps two brothers quest for their kidnapped sister. Starring Sandahl Bergman, who would star in another PA classic Hell comes to Frogtown 5 years later, She is fun but definitely falls under that illustrious category of: films that never lives up to the coolness of their posters.
Watch She in action
Thundarr the Barbarian
was a sweet ass television cartoon which was smack dab in the middle of its 4 year run by 1982. Taking place on a future earth that, due to a natural disaster, has become a wasteland, Thundarr mixed high fantasy with super science to create a world where scavengers, theives, barbarians, and sorcerers shared crazy adventures.
Watch the introduction to Thundarr
Again, depending on where you're from, you may remember
Warlords of the 21st Century
by another name; "Battletruck." Basically, if you thought that the semi in Duel was scary you're in for a treat, but at the end of the day the metal plated pig of a rig is one of the only aspects of the film that lend it to recommendation. In a Post World War III futuristic world where the government has collapsed its every man for himself and the Battletruck is to be feared.
Watch the opening of Warlords of the 21st Century
"In the near future, after an unspecified holocaust, survivors are herded into prison camps. There, they are hunted for sport by the leaders of the camp. Paul, one of the newest prisoners, is determined not to go down as quietly as the others." And folks, if you haven't seen it,
Escape 2000
is one of the best Australian films ever and every bit as awesome as that synopsis makes it sound.
Watch the trailer
"The World is dead! It raped itself!" shouts Giancarlo Prete, the leader of The Templars, a biker gang set on destroying the sins of civilizations past. Yes, The New Barbarians is another great Italian wasteland flick from Enzo G. Castellari and it's lines like this that make it a thoroughly enjoyable romp through Mad Max cliches and Megaforce cheesiness.
Watch the trailer
The Thing
may well be the greatest horror film of all time, but is it PA? Not really, but with an ending that more than hints at the possibility of the earth's complete annihilation I think its safe to call this film apocalyptic at the very least. Plus it came out in 1982, and every best list from 1982 has to include The Thing. Its like an unwritten rule guys, sorry.
Watch the film's best scene
Though he's most famous for his Italian soft core work, diretor Joe D'Amato also dabbled for a time in post-apocalyptic films like 1982's 2020 Gladiators, and '83's Endgame, as well as in the fantasy genre where he spearheaded the so-bad-it's-good Ator series. In the post-nuke world of 2020 Texas Gladiators, trouble erupts when a megalomaniacal Neo-Nazi dictator and his cruel minions attack the heavily fortified refinery and begin trying to convert the hapless workers to his insane idea of the New Order.
- - thanks to Michael for pointing this one out to us.
You might also like
michael (14 years ago) Reply

What about 2020 Texas Gladiators? That's a proper PA! Megaforce? The Thing? Nah. Bronx Warriors isn't really PA either but it does have the all important gangs.

1983 was also a pretty good year for PA.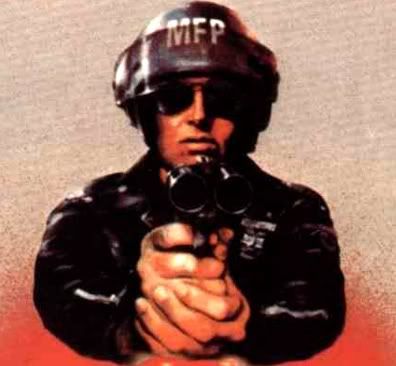 agentorange (14 years ago) Reply

Ah yes, 2020 Texas Gladiators. Another Joe D'Amato "classic."

Thanks for adding to the list Michael. That's exactly what I was hoping people would do :)

And BTW, if you keep an eye on the site you might just see a list from '83 yet (wink). I mean, Endgame is one of my all time faves.

Leave a comment