Latest news
Ulises
[Celluloid 03.20.08]
movie
review
scifi
drama
Year: 2007
Release date: Unknown
Director: Paul Todisco
Writer: Paul Todisco
IMDB:
link
Trailer:
link
Review by: Ulises Silva (via
VeryTragicalMirth
)
Rating: 6.5 out of 10
Teen angst. We all had it. All of us, in some form or another, believed that at the ripe old age of 16, we already understood the world better than anyone else. And of course, no one understood us. Because we were, like, so different and stuff. Gina, the teenage prodigy of Paul Todisco's One Day Like Rain, has angst. Lots of it. But as it turns out, she really is different. And she really does understand the world better than most. So much so, she knows of its impending doom. And so decides to try and save it.
That's the premise of One Day Like Rain, a film that takes teen angst to the existential and spiritual level, asking broad, cryptic questions about the value of life, and the difference (if any) between saving a species and destroying it. Something of a cross between The Twilight Zone, Ghost World, and American Beauty, One Day tries to tell the story of cataclysmic global change through the narrowly focused perspective of its two protagonists, Gina (Samantha Figura) and Jennifer (Marina Resa). In other words, the story is less about the actual cataclysm, and more about their attempts at understanding and helping to stop it. Unfortunately, as interesting a premise as that might be, the film gets lost in its own over-philosophizing, asking us to fill in way too many gaps in between its existential narrative about mortality.
The story begins ominously enough with Gina's voiceover ("Pretty little Gina is a clever little girl, had a plan to help about one half the world, no matter how she tried to help everyone at once, 50 percent fell into a dark and dismal swamp") floating over a beautifully filmed panorama whose strange, stop-animation-like quality foretells the film's play on perspective. Perspective is at the heart of the matter. Gina, whose young, angsty persona belies her sharp intellect, seems to see things (e.g., the chemicals and semen in a neighborhood pool) no one else can. One such thing? The impending doom of planet Earth (though we're never really told what that doom is). And so she decides to try and save it with the help of five cheap chemistry sets she buys at the local hobby shop. Her friend, Jennifer, is ever loyal and helpful, partaking in Gina's obsessive pursuit of "her master plan," catching a glimpse of the impending doom after ingesting a potion Gina concocts. "How did we forget?" Jennifer asks Gina cryptically as she slowly succumbs to despair.
Not everyone (in the film, at least) is in the dark about Gina's master plan. There's a group of hermits (exiles, it seems) in the nearby woods who understand what she is trying to do. Their liaison with the outside world, Stefan (Trevor Zacharias), happens to be Gina's boyfriend. And like them, he understands the magnitude of the situation, and the futility of Gina's struggles against it. How do they understand this? It's never spelled out, but it seems there's some extra-terrestrial thing going on. Are they exiles from another world? Another dimension? Is Gina herself of their same race? Is that why she's blessed with this almost omniscient perspective on this little planet called Earth, a planet she actually hates? Is that why Stefan tries to convince her that "it's not so bad here," because there are mysteries left in this world?
That's the biggest problem with this film. Even though one character claims that "questions don't matter," the film's "answers" could certainly have used some questions to properly contextualize things for us. The film seems to be carrying on a conversation with itself, leaving us with cryptic references that, while ominous, seem dangerously irrelevant. Case in point: Gina, in a moment of sudden inspiration, blurts out "40" to herself, content that she's hit upon a solution to some problem. What problem? Who knows, because we never find out what "40" helped her solve. In another odd sequence, she goes by herself to a cemetery and visits an old tomb marked "Mary Carter." In the following scenes, Stefan and Jennifer, somehow having found out about Mary Carter and alarmed by it, ask Gina who she is. Gina replies, "That is the thing." …………okaaaaay. Um, so what IS the thing? The mystery or relevance of Mary Carter is never touched on again, leaving you with the sense that you're being left out of a very interesting, if bizarre, conversation.
The cryptic half-conversations really ramp up during the final act, where things like "There's no going back," "Everything else has been tried before," and "We have to take this all the way," overtake the dialogue. By the time the great cataclysm comes, we don't know what exactly has happened, or why. Did Gina save the world? Did she only save half? What was the cataclysm in the first place? Why are the exiles suddenly against her? And who are those aliens in those strange little sequences?
The thing about this film, though, is that it's beautifully shot. Perspective is key to the narrative, and Todisco's direction and cinematography portrays this through a brilliant choreography of image and music. At times, his slow, panning shots of local landscapes encourage you, alongside Gina, to take a look at the inconspicuous wonders of our little world. His camera shots play up her unique perspective by re-arranging the shapes of our everyday life without actually changing them. He makes a kaleidoscope out of our world without distorting it, asking us to take a look at things from different, but accessible, perspectives. Add to this a soundtrack that is both moving and haunting, and the film takes on a poetic, surreal quality. It certainly makes you think that you need to watch this at least three or four times to begin to understand it.
It's really hard to rate this movie because of that, though. Despite some fine acting across the board, and the aforementioned brilliant cinematography, I think the film relies on you to fill in way too many gaps, but it doesn't give you nearly enough information to do so with. It ends up being a prolonged exercise in existentialist dialogue, which wouldn't be an issue if it decided to first ground some of that existentialism within more accessible referents. That way, maybe we could follow along and connect the dots using our own sense of perspective. But alas, all those half-conversations and Mary Carter-esque riddles leave us hanging. And we're not connecting dots so much as drawing our own, varied interpretations of something that might or might not have happened with people who may or may not have been aliens who may or may not have come from a world that may or may not have been destroyed. Overall, it's a beautifully shot riddle of a movie that requires a second or third viewing, but it may not be compelling enough to actually make you want to do so.
You might also like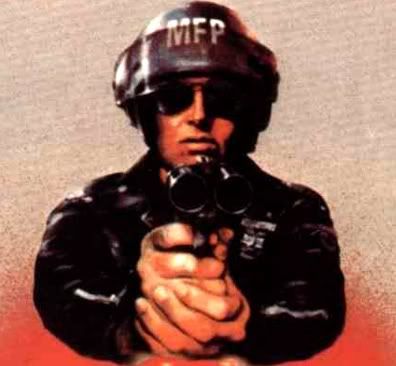 agentorange (13 years ago) Reply

Great review man, very in-depth. And I agree, it's often hard to "rate" much of the outsider cinema we come across here at QE. But in the end it's all gut :)

Mary Carter (11 years ago) Reply

Great review. I wasn't sure why I liked the movie and felt the need to explore it further by reading reviews online - but now I see. The music, cinematography, and acting were all well done. I wanted to understand the story, hoping that my understanding would make the cinematic beauty all worthwhile, but alas, the gaps were just too large for me to leap across. I couldn't connect the dots without adding too many dots of my own. If I came to any understanding at all, it was only through mentally rewriting the story in an effort to make some sense of it.
Maybe that was Todisco's goal: Everyone who understood the story did so by mentally co-writing in the missing pieces - making it a movie with thousands of different outcomes, each as unique as the individual watcher.

Tim (11 years ago) Reply

This is an awful movie. There is not enough plot even for a short story. There is not enough character development to make us care about their "day."

Cindy (11 years ago) Reply

I just saw this movie. Facinating. I will need to watch it a couple times. It's been a few years now is there more Todisco is willing to share about this story?

KKMcK (11 years ago) Reply

The film is trippy. It is psychedelic. And like life itself it doesn't provide all the answers for those who need everything summed up, and tied up with a neat little bow. Life is a flow of questions without answers. I had to watch it twice - why? Well, there's another question for you - and will recommend it to my friends. The music is great, the directing is good, the young actresses are fine. The metaphysics of transcendence . . . go figure . . .

Anonymous (11 years ago) Reply

The whole thing smacks strongly of scientology overtones, Has no plot, and leaves one thinking what on earth is this bizzare movie about. Only the scenery is noteable.

Anonymous (11 years ago) Reply

Just finished watching this movie and I absolutely hated it. This firm is nothing more than someone with no storytelling ability spouting pseudo-intellectual nonsense for an excruciating 90 minutes. You could watch this film 100 times and the "40" and "Mary Carter" sequences would still make no sense. There is a simple explanation for this... it's nonsense! No character development, no plot to speak of, and the admittedly nice scenery shots do absolutely nothing to compensate for the other shortcomings of this film. I generally enjoy movies that leave room for some interpretation. This film, however, simply lacks enough story or plot to be taken seriously. Nice try, Todisco, I hope you learned from your mistakes after making this film.

Anonymous (10 years ago) Reply

This film is utterly boring from start to finish. If staring into space and reciting nonsense is good acting, then everyone in this film should be up for an Oscar. Yes it was well shot but this doesn't make up for the lack of story. Girl has the answer to save the world from something and doesn't. That doesn't sound boring but somehow Todisco manages to make a film to do just that.

Beccie (10 years ago) Reply

I loved the movie. I understand how it can seem like the entire movie is a conversation that most aren't privy to. But it is a conversation that I have found myself involved in. I am open minded and free spirited. I have had experiences so incredibly similar to this storyline that I could swear it was made for my eyes to see. The character Jennifer, who cannot handle the truth once she is exposed to it, can sum up most people on this planet. The truth is far too encompassing and otherwordly for normal mindsetted humans to even begin to comprehend.

Anonymous (10 years ago) Reply

Boring, and way too much explanation on why you rated the movie the way you did. It was dull and did not do what most films do well - tell a story. The story can be moralistic, but this was not. The story can be entertaining, and this was not. Poor excuse for the cost of the time to make it.

Thomas Newton (9 years ago) Reply

Just watched this for the second time, but not to understand it better as its gaps are not filled in with repeat viewing (there will never be a One Day Like Rain explanation like the one for Donnie Darko). It is worth viewing twice to appreciate it and enter its mood of mystery, poetry, and beauty set against an impending catastrophe. The aliens dying on a burning planet and the coming end might be echoes of climate change while the enhanced perception is the way we used to connect to nature and have forgotten (implied by the shots of natural beauty and Jennifer's comments about how could we forget). But whatever your own interpretation, the film works by expressing a fundamental sense of longing and desperate hope in a world that has lost its way. The pieces may not all come together in a linear fashion, but the whole is complete. And individual scenes will stay with you and affect you long after you stop worrying about the plot.

Casper (6 years ago) Reply

I don't know what to think of this movie but it's been fascinating enough to make me come back and watch I quite a few times. Are the aliens the people in the woods? Did she end up saving half the world? I don't know, I'm just left with so many unanswered questions. Still an interesting watch

Leave a comment