Latest news
Christopher Webster
[Celluloid 04.10.08]
movie
news
scifi
Oh yeah baby this would be sweet. Kenneth Johnson's dramatic alien invasion series V remains one of my favorite sci-fi shows ever and, while his latest book V:The Second Generation was a nice surprise my excitement for it pales in comparison to the idea of a feature film reboot. But Johnson doesn't just want to remake the original. Oh no, he says he's looking to kick start a whole new franchise which would begin with a remake and continue into the 2nd Gen book. More after the break.
Said Johnson about the plans: "... since I own the motion picture rights to V, we're in the process to do a remake of the original mini-series first as a theatrical feature, which I'm so jazzed about because it will give me an opportunity to really realize it and execute it in a way that was impossible to do back then. Then that will lead to the obvious sequel, because it is a franchise, and then we'll get into The Second Generation and I'm hoping we'll be able to do two movies, because there's certainly enough material in the novel to warrant two separate sequels. That's my goal at this point and that's what we're in the process of doing. I just literally came from a meeting, 15-20 minutes ago with a fellow in Beverly Hills who really says that we're gonna do it."
Opening Credits from the original series:
Via
The Deadbolt News
You might also like
on the sound (13 years ago) Reply

I always wanted him to make the sequal and show us who the visitor's enemies were.

V was one of my fav made for tv movies.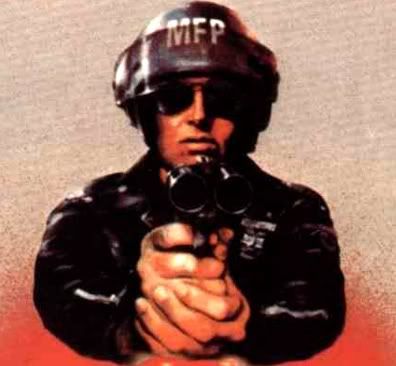 agentorange (13 years ago) Reply

The Visitors' enemy was freedom!

:)

V

Reaps (13 years ago) Reply

Hopefully a certain other terrible movie that also happened to start with V won't have the young 'uns (who apparently liked said film) writing this off as a 'ripoff' just from seeing the title..

Leave a comment