Latest news
quietearth
[Celluloid 04.28.08]
movie
news
horror
As I've been waiting a while for news on this one I decided to post up a new poster I found last night along with the synopsis. Shot in Switzerland (at least I think it is), this is a horror film that seems to have something to do with an evolutionary branch of humanity lost deep within the Swiss Alps. While it looks skedded for 2009, we haven't seen much on it so I hope theres some stills or something soon. Here's the synopsis: "A group of researchers travels to the Swiss Alps to investigate a scientific discovery that could bring the whole of human evolution into question. The trip turns into a nightmare when their minibus crashes to the bottom of a gully. Lost in the midst of the mountains, the group must organize itself to survive. Yet someone, or something, seems to be after them…" Larger version of the poster following.
You might also like
Hot Fuzz (12 years ago) Reply

MMM that BBQ Gorilla makes me hungry :)

I love the tagline though. "Are we the only humans on earth?" is very cryptic.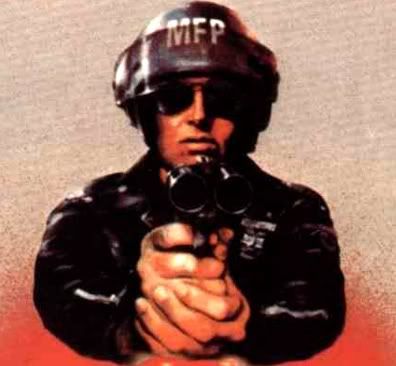 agentorange (12 years ago) Reply

Do you think is trying to be like the Descent? I think the deal was that those cave dwelling mutants were supposed to be some evolutionary offshoot of humans as well.

quietearth (12 years ago) Reply

dunno, but it sounds good to me.

Anonymous (12 years ago) Reply

Based on the creepy face in the poster art, I'd say it definitely will be reminiscent of Descent...

Cyberhal (12 years ago) Reply

sounds cool to me. Good setting too. There as actually an avalanche a few years ago that revealed the frozen body of a man thousands and thousands of years old.

Leave a comment