Latest news
quietearth
[Celluloid 04.29.08]
movie
news
scifi
Based on the short film Zero Trooper F by Eric Lim, which recently played at the Wisconsin Film Festival, Greenside is a feature length version, and to put it in Avery's words, "IT'S ULTRA-MAN LIKE KAIJU HERO!!". So in other words, it's like a big weird monster or something. Based on the footage I have to agree this has some serious potential. Drop past the break for the nice trailer and info on the short.
"A certified genius, and local celebrity, named Dr. Abrams (played by Rob O'Brien) has developed a special device that can be used to turn an elite group of soldiers, called the 'Zero Troopers', into giant sized, Power Ranger-like, defenders. While Greenside City, a town that looks amazingly like Madison, Wisconsin, is being attacked by a giant white, "fuzzy-wuzzy" monster, the Good Doctor's invention is put into use. A giant Zero Trooper appears and begins a knock-down fight with the monster. In a surprise move, Dr. Abrams quits the defense force, right in the middle of the battle, and goes in search of his ex-girlfriend, who he discovers has already moved on in her life with another man."
Zero Trooper F website
additional info from
RoboJapan
You might also like
Matt (14 years ago) Reply

Holy crapoly that looks pretty well done for an indie flick. *Clapping.* Very high quality Kung-fu.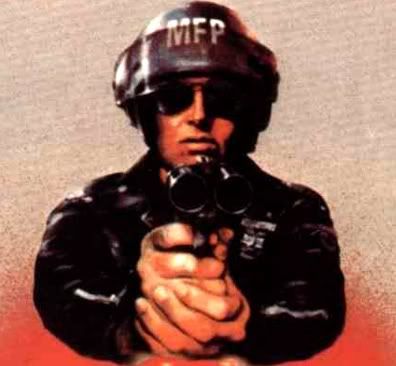 agentorange (14 years ago) Reply

Whoa this looks ridiculously fun. Never have I seen such convincing cardboard helmets. Big shout out to Avery for this one.

Avery (14 years ago) Reply

LOL!! Now they all know!!Yikes!!Yeah this one looks like a freakin' blast!!I can't wait to see it!!I hope we get to see a lot more from this film maker.It really does look amazingly well for an indie!!

projectcyclops (14 years ago) Reply

Extremely cool looking! Very nifty fight scene there.

Eric (14 years ago) Reply

Hey Guys my name is Eric Lim, I'm the producer and lead of Greenside. I appreciate all you fella's nice words. I wanted to give you all a heads up though that Greenside is going to clock in at about 40 minutes, so it's a short, and it's the sequel to another short I directed called Zero Trooper-F. I'm pretty sure I'm going to throw these films online for free at the site, www.zerotrooper.com, after they make their festival rounds.

Leave a comment