Latest news
quietearth
[Celluloid 05.05.08]
movie
news
comedy
drama
ze Fuhrer is back! But this time he's going to save the world. AHDLD is a Czech film which is currently in pre-production and I just couldn't pass up on the cult nature of this one. It's billed as a dark comedy (you probably guessed that). Here's a synopsis:
"Adolf Hitler is the master of the world. As a clone of the actual Führer, he won World War II and his Third Reich now, at the start of the twenty-first century, extends from Asia to Africa. His control in Uganda is on the verge of disaster. At least in his imagination. The truth is somewhat different. Hitler is an experimental animal. Under the slogan, 'who else deserves this?', new drugs are tested on him. So Hitler now lives on stories about the war he thinks he has won, the necessity to remain isolated because he is ill, and on dozens of experimental medications. Once the ex-Führer finds out the truth, he runs away. It is a real shock for him to realize that he is not the world's actual ruler but rather, a historical caricature. When he recovers, he decides to astonish the entire universe. He wants to change fundamentally and prove to everyone that one should not be judged by appearance but by what one is really like. That's why he decides to do good deeds and clear his name. The "new" Adolf finds himself in many comical situations – they crop up in abundance, so it's not long till we witness the first one. As part of their research project to develop the pure essence of evil, the scientists who have cloned Hitler are planning to do the same with Satan himself. This will of course mean the end of the world. So Adolf Hitler must save the world. But given his nature, it certainly won't be easy."
Principal photography isn't skedded to start till September or October of 2009, so don't hold your breath.
You might also like
sonaboy (14 years ago) Reply

I'm so tired of this historical revisionism. Adolf absolutely DID adore disco. This was one of the main reasons why he had to endure several assassination attempts. READ A BOOK.

quietearth (14 years ago) Reply

WHAT are you talking about? He liked Salsa, both the dancing and on his tortillas! Why do you think all the nazis fled to South America afterwards? Geez!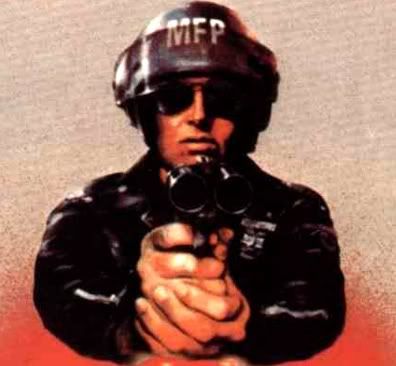 agentorange (14 years ago) Reply

Hitler likes disco and here's the proof!

http://youtube.com/watch?v=jjtpEAdQqTo&feature=related

Leave a comment