Latest news
Christopher Webster
[Celluloid 05.05.08]
movie
news
scifi
action
Futuristic prison movies are usually pretty rad so even though the synopsis of Ditch, a new spec script picked up by Warner Bros, sounds pretty much exactly like the plot of TV's Prison Break (only on Jupiter) I'm still intrigued. In fact, just off the top of my head I can think of at least three science fiction prison flicks that have proven better than expected. Fortress with Chris Lambert was alright, as was Absolom 2022 and, of course, Escape 2000. But if anybody has any titles to add let us know in the comments. Synopsis of Ditch and links to follow.
Ditch has been written by music video and documentary producer Sascha Penn.
Synopsis: "Set in the future, a super maximum-security prison has been constructed on Jupiter's moon where Earth's worst criminals are incarcerated. When a prison guard's family is taken hostage, he is coerced into helping the facility's most notorious terrorist, a man who was scheduled to be executed that day, escape."
Via
Variety
You might also like
quietearth (12 years ago) Reply

Dude Fortress wasn't just alright, it has Christopher Lambert and was awesome!

Morrisminor (12 years ago) Reply

The penultimate science fiction prison flick...STARSLAMMER!
There's also Escape from DS3 which was directed by Steven Spielbergs sister Anne. Fortress had a sequel...Fortress 2.
New Eden with a Baldwin brother in it and uhhh..oh wait, did you say proven better tan expected?

...Dante 01.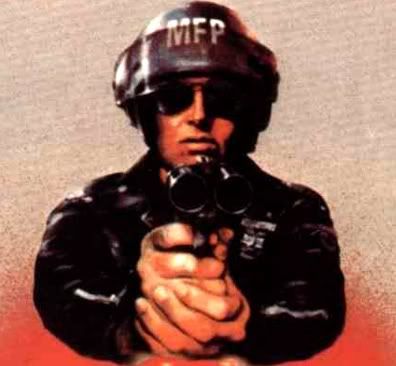 agentorange (12 years ago) Reply

Haha, I forgot about "New Eden." Made for TV at its finest! I'm gonna have to track that down now.

And let's not forget "Space Rage" with Richard Farnsworth.

Leave a comment