Latest news
Christopher Webster
[DVD News 05.06.08]
post apocalyptic
movie
apocalyptic
news
dvd
Just last week there were rumblings of an unrated DVD release of Neil Marshall's Doomsday and now we've finally got the proof to back it up. Full specs and a release date have finally emerged and we though we'd share them with you all. Universal will be releasing the film on both DVD and Blu-ray Disc on July 29th. The DVD will indeed include both the theatrical cut as well as an unrated version of the film in anamorphic widescreen. More, including the full list of special features after the break.
Doomsday DVD Special Features:
- Commentary with director Neil Marshall and actors Sean Pertwee, Darren Morfitt, Rick Warden and Les Simpson (sorry guys no Rhona Mitra).
- 3 Production Featurettes: "Anatomy of Catastrophe: Civilization on the Brink," "The Visual Effects and Wizardry of Doomsday," "Devices of Death: Guns, Gadgets and Vehicles of Destruction."
No word yet on whether this is a 2-disc set or not.
Preorder the DVD from Amazon
Our Doomsday Review
You might also like
projectcyclops (12 years ago) Reply

Rockin'. I loved this film, an amazing throw-back to 80's action and horror. Sort of 'Madmax 2' meets 'Excalibur'. Plus it's set in Bonnie Scotland :)

IRISHMc (12 years ago) Reply

good info.. but the release date is: July 29, 2008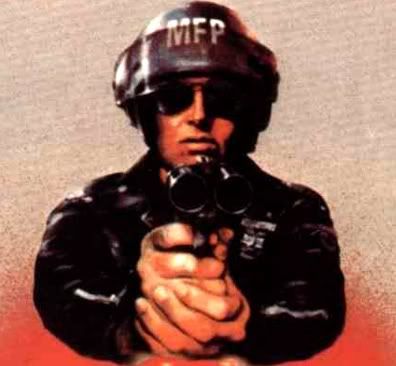 agentorange (12 years ago) Reply

Thanks man.... typo :)

Leave a comment