Latest news
quietearth
[Celluloid 05.14.08]
movie
news
scifi
Also having it's world premier at this year's Hole in the Head film festival in San Francisco is a low budget scifi flick called Homeworld that has to do with humanity battling aliens in 3037. While most of the shots are of soldiers running through the woods, I still have high hopes considering The Vanguard did the exact same thing and was quite brilliant. The moral of the story is; don't let the low budget turn you away, some of the greats starts out just like this. Here's a synopsis:
"Earth is at war with an alien race known as the Mendax. They have remarkable mental abilities and are determined to wipe out all mankind. In retaliation, a military strike team is sent to the Mendax homeworld. Their mission: To deliver the Devorga Strain, a powerful virus engineered to attack the Mendax immune system and exterminate them from their native planet. Lieutenant Gray, a young inexperienced officer, finds himself in charge when the Captain is horribly injured after their dropship crashes onto the alien's homeworld. The situation becomes more complex when the team learns that humans, not Mendax, inhabit the planet they've come to exterminate. Apparently, the Hidden War was lost to the Mendax hundreds of years ago. If this is true, who ordered the extermination of this planet? And more importantly, where did Lieutenant Gray and his strike team come from? Doctor Bayne, a civilian doctor, is determined to carry out their mission, claiming that the Mendax are trying to fool them with their mind tricks. He and the Lieutenant battle to determine the proper course of action and determine the fate of humanity."
This is director Phillip Hudson's first feature, and while I won't be able to make the screening, we'll be following this. Trailer after the break.
High res trailer
You might also like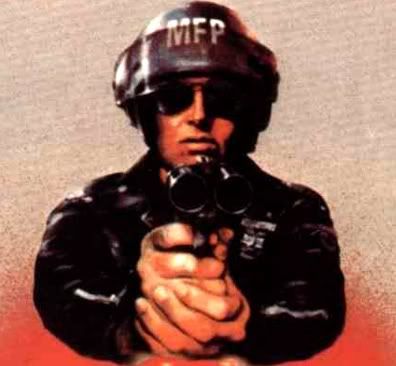 agentorange (14 years ago) Reply

Wow for a low budget flick some of the FX and costumes look a-ok to me. I'm sold.

Leave a comment