Latest news
quietearth
[Celluloid 05.28.08]
movie
review
scifi
Year: 2007
Director: Julien Leclercq
Writers: Julien Leclercq & Nicolas Peufaillit & Franck Philippon & Aude Py
IMDB:
link
Trailer:
link
Review by: quietearth
Rating: 5 out of 10
Julien Leclerq's Chrysalis came out around the same time as two other beautiful looking French scifi films: Dante 01 & Eden Log. Many of us have been eagerly awaiting this trifecta for some time now, and I was finally able to get my hands on a copy of Chrysalis, and even though it had received poor reviews, I was still very much looking forward to it. Well, let me tell you, the reviews were right.
The film starts off with a beautiful vista of a futuristic Paris, the Eiffel tower to the left, and some aesthetically engineered buildings on the right. We get a very clear taste of the chrome metal design that permeates the film here and this alone should be able to sell anyone picking up the dvd for a look see. Unfortunately, while this production design is stupendous, it is almost perfunctory, as is the entire storyline of the film. I was never excited, other then to say "Wow, they ripped that action sequence from the Matrix."
The story revolves around a cop who loses his partner right at the beginning, a mother who runs a top notch surgical clinic and her daughter who was in a severe car accident, and the criminal the cop is chasing. All these loose threads are tied together at the end of the story, but until then we swing between alternate story lines with no idea what is going on.
The cop lost his female partner chasing the criminal and to make matters worse, they were involved and she was newly pregnant. This is our setup for a traditional crazy cop revenge storyline. He gets a new partner which he gives the cold shoulder too, he fights with another cop, and finally he has to give up his gun and badge. Yes, very formulaic.
The action sequences were pretty straight forward kung fu stuff, ripped almost from the Matrix. At one point the cop is wearing a jacket and does a pirouette as it's ripped from him. Overall these are decent, but not extraordinary.
What really shines in the film is the futuristic design. Since it's set in 2020, the cars are quite different (although oddly resembling today's pricey Cadillacs) and of course, everything is chrome and steel. I mean, what would the future be if we had some color right? There are also remote-operated heart surgeries done with holograms, and a machine which can both read and program someones memories. To top it off, there are also "interactive" sex machines. Yay! No need for a girlfriend anymore.
Overall, I didn't want to turn the film off at any point, but it just wasn't engaging. The director clearly has talent, just not with writing screenplays. He'll probably do much better with someone elses material. It's worth watching for the production design, but unless you're a big scifi fan, don't bother.
You might also like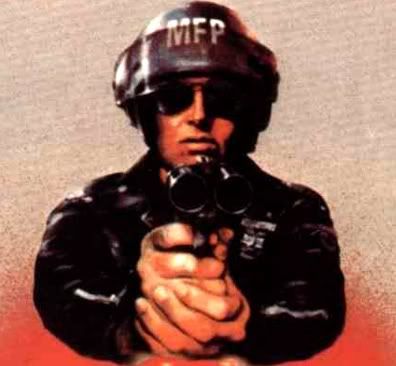 agentorange (14 years ago) Reply

Booo... Too bad Chrysalis wasn't the breakthrough Gallic actioner we were all hoping it would be. Though I am severely digging the screens you've included. Reminiscent of that other austere looking scifi flick, the underrated Equilibrium.

And, since I am indeed a big scifi fan, I'll probably still give it a spin but just keep my expectations in check.

soma (14 years ago) Reply

what a shame :(

Leave a comment