Latest news
Christopher Webster
[Celluloid 06.10.08]
zombies
movie
trailer
news
horror
I know I know, this is kinda old but Andrew James posted it up over at
rowthree
and I thought it was so well done it deserved some coveted Quiet Earth real estate. Basically, this fan made viral clip for the still non-existent 28 Months Later taps into our current wartime paranoia by taking on the aesthetic of combat satellite footage - only this ain't your everyday combat. I can't tell if it's because that powerful Godspeed track we all remember from 28 Days Later is layered on top of the footage or what, but it's really tense and terrifying.
You might also like
Anonymous (13 years ago) Reply

This is a viral video for the release of S.T.A.L.K.E.R.:Shadow of Chernobyl for the PC last year.

Anonymous (13 years ago) Reply

Are they considering a 28 months later??

quietearth (13 years ago) Reply

Danny Boyle said he'd like to do it and has an idea for the story, but nothing beyond that.. yet.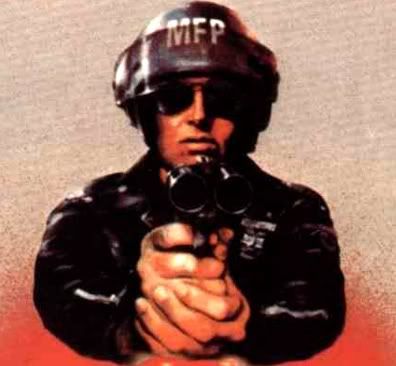 Agentorange (13 years ago) Reply

Thanks for the origin info anonymous first poster. As I said, I wasn't 100% sure where the video originated from but it sure is cool.

Quarantine (13 years ago) Reply

The video was pretty good :). i hope they do make 28 months later. what would REALLY be cool is if they made the movie with the original cast (i.g. Cillian Murphy)

Anonymous (13 years ago) Reply

The thing is with putting Cillian in it (though I would love if they would go back and connect the first story rather than follow up on the second one) Cillian Murphy's character died... well depending on which version you saw. So it would be hard for him to come back. *sigh* oh well, he does play fucking brutal and crazy well.

ameed187 (13 years ago) Reply

They have confirmed that there will be a third movie called 28 months later, but this movie will NOT be in france instead it will be in RUSSIA yeahh thats right RUSSIA

filmlyfe (13 years ago) Reply

Cillian Murphy lives in official cut its only the alt ending in which he dies.

RebelDemon (13 years ago) Reply

That is one great f@$%ing fan made trailer i've seen, so good job man.

aa (13 years ago) Reply

This was made by the developers of the PC game STALKER to promote their game...
Has nothing to do with 28 months later.

MORONS

Leave a comment